By Chiara
Tall Tales
A tall tale is a story with elements that defy credulity, yet is told is if true, and often as if the narrator is a part of the story or the story happened to the narrator.
Those familiar with American literature will recognize some of
Mark Twain's oeuvre as excellent examples of the genre, notably his first successful story "The Celebrated Jumping Frog of Calaveras County" which can be read online free at
Project Gutenberg
,
here
. Those familiar with current Saudi news will recognize the tall tales or braggadocio of Mazen Abdul-Jawad and their serious legal repercussions. Fishermen will recognize "big fish" stories.
The second wife promised to contact me after Eid Al-Fitr, and true to her word she did, first on the blog in the same comment thread, and then by email. (NB all relevant comments were subsequently deleted and the person informed).
As tall tales go, this was one of the tallest, reaching the highest echelons of Saudi society. It was hard to imagine that people from that far on high had taken any notice of a blog, let alone would be anxious to entrust their family secrets to me, or to do so when they had access to a media empire of their own.
Indeed, there seemed to be a lot of truthiness to the story. Truthiness—the appearance only of truthfulness--is an expression coined by comedian Stephen Colbert, and first aired on the "Word" segment of his nightly faux news program, The Colbert Report. Truthiness from The Word: video for Americans,
here
; for Canadians,
here
. Truthiness as a term has become as much a part of the culture as truthiness the phenomenon, as summarized
here
. There was a whole lot of truthiness in Colbert's brilliant White House Correspondents' Dinner performance in 2006:
November 28, 1943
In the evening the so-called "Calais Soldiers Broadcast" which evidently originates in England and uses the same wavelength as Radio Station Deutschland when the latter is cut out during air raids, gave us something to worry about. The station does a very clever job of propaganda and from what is put on the air one can gather that the English know exactly what they have destroyed and what not.
Joseph Goebbels, The Goebbels Diaries: 1942-1943. trans. Louis P. Lochner (Garden City: Doubleday, 1948)
I also began remembering fondly the excellent online biography of
Soldatensender Calais
' originator, the British journalist with the perfect
Berliner Deutsch
, Sefton Delmer,
Black Boomerang: The World War 2 Top Secret British Black Propaganda Operation
.
I kept thinking about the ethics post that I had previously planned and had partially written, which normally would have ended with what is now
Part I
of this double post. I was starting to feel more like a spy-chiatrist than a psychiatrist. A Freudian psychoanalyst would have kept me in hours of therapy working through these "free associations". Instead, Part II of the planned Ethics post was born.
Big Hits
Curious about who, singular and plural, might be spinning such a yarn--or web if you will—I had started to look at the traffic to the blog. This was a very pleasant experience: so many people stopping in from all parts of the world; so many universities, medical centres, corporations, and individuals from across the globe; so many people interested in the posts. Truth to tell—not truthiness though—there were some surprises. Some people were checking in a phenomenal number of times. Really looking for Breaking News!
It's all good news, but could there be any connection? Probably not.
My Impression
All I can say is: I am Chiara Baschetti!
agencies
!
Good thing I married this fellow:
Here is the entrance to our home in Rabat: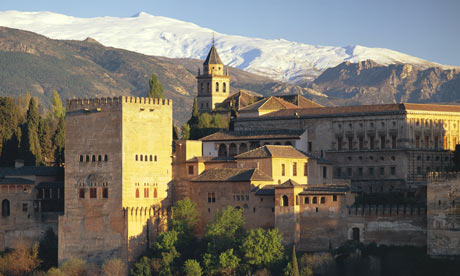 What do you think?
Any other bloggers have a similar experience?
How did you detect the
faux
behind the
faux
?
Any one else have such a tall tale experience in real life?
Any other comments, thoughts, impressions?
Oh, and do drop in to visit me in one of my palaces! I'll even put on a fashion show for you!