Alpes de Haute Provence


The summer I was 19 I was blessed with an unrestricted cash scholarship for travel, one awarded for academic achievement during the previous university year. I had immediately researched how I could spend the whole 4-month break in France, even stretching the budget to the max. I thought of summer courses, but the timings, the cost, and the thought of being in a class with a bunch of other foreign students were off-putting, not to mention that the effort spent earning the scholarship had me study-weary. Then I thought of how I would normally spend a summer, and started thinking of waterside activities. Working at a Club Med seemed out—wrong gender, wrong morals, no working visa.
French National Synchronized Swim Team

Via the varsity diving coach, who was also an international synchronized swimming judge, I found myself training with the French National Synchronized Swimming team, and living with the solo champion and her family. The diving coach had owed me. One of her divers almost took me out—plunging off the high tower like a torpedo, and breaking the water inches from my head. I considered that a miss and didn't break formation or position, even though there was an audible gasp from the rest of the 2 teams, and we all paid better attention to location, location, location. In France, I also taught physical education and English at a junior high school, with a wonderful outdoor pool, surrounded on 3 sides by rose hedges—a beautiful scent and view while doing laps.
After 2 months, both of these activities were winding down, and I was looking for a way to spend the next 2 months. One of the school teachers I had become friends with took me to the agency that hired camp counselors. Alas, it was too late in the season and the positions were all filled. We were just about to leave, when a middle-aged man sitting in the secretary's office said, "I have an extra position, but you have to be able to speak English". "I speak English", I rapidly replied (in French). He proceeded to tell me about the job as a camp counselor for adolescents at a hiking camp in the French Alps near the Italian border. Meanwhile, I filled him in on my relevant experience and qualifications. The conversation was punctuated with him repeating that speaking English was a necessity, and me reassuring him that English would not be a problem.
Gradually, he explained that the need for English was because he had a group of boys among the campers who spoke English only. He revealed more details in little drops of information, in between camp location, activities, other counselors' identities, and the composition of the whole group of campers, etc.: 10 of them, ages 16-18, English only (a lot of that bit), one male counselor accompanying them to France, etc. No problem. No really, English would be no problem. Then he said that the boys were "
Koweïtiens
" and looked at me. Blah blah blah, "
Koweïtiens
", blah blah blah, "
Koweïtiens
"… For some reason I had no idea what a
Koweïtien
was--none. Maybe if I had seen it written, or heard it used in a different context. As it was, putting together all the information he had given me, I decided that they must be some kind of English Boy Scout troop, or some such. How hard could it be to spend 4 weeks paid to hike the Alps of Haute Provence, and to interpret English-French-English for a bunch of English boy scouts?
It was obvious on first meeting that this was no English boy scout troop, and suddenly Kuwait appeared in my mental map, and Kuwaitis became a face to face reality—well at least 10 Kuwaitis, boys, aged 16-18, mysteriously sent to France with no French language skills whatsoever, and even more mysteriously sent to a camp with very rudimentary accommodation—large tents for boys, unheated barracks for girls, and verrrrry poor plumbing. And, that was the base camp in the village, not the alpine camps we set up with 3-man tents--a tent called a "Canadienne", for some reason that never ceased to amuse the French teens, of whom there were 10 nice girls, 10 nice boys, and 3 boys who had survived the streets of Paris solo, as runaways, and were being re-integrated into normal teen life (French social services and police were involved, and I'm not sure I want to think too much about exactly how they survived the streets of Paris).
It was a wonderful 4 weeks, with many adventures, including searching an Alp at 2 AM with a flashlight, looking for a guinea pig—the, until then, secret pet of the smallest of the street survivors, who at 15 smoked 2 packs a day, and had a voice like Jean Gabin's:
Rather true to cliché, he was a very young boy inside, and the guinea pig offered unconditional love in his otherwise tough world.
Other adventures included: trying to cook on a gas container, with removable prongs attached to hold the pot, during a rainstorm in the "cool" mountain air; being the French-Italian-French interpreter at a dinner held for us by the nearby Italian carabinieri, even though I don't really speak Italian, and they had a certified official interpreter present; following goat paths until they went where only goats could go, and then being in a quandary; trying to go pipi in a donkey shelter, with the donkey looking on. and hoping I couldn't be seen by the rest of the gang up-Alp from where I was, with fingers so cold and swollen that I couldn't get my pants down and so gave up; and, cooking my rain-soaked jeans over a slow fire, along with some of the French teens, each of us with our jeans on a stick over the rather smoky "fire". All of these are fond and funny memories.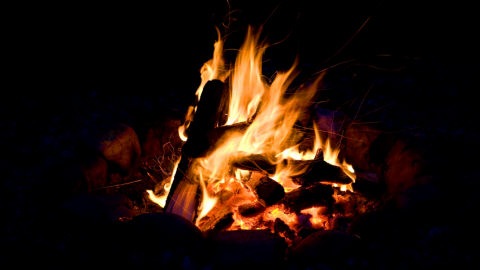 Also fond, but sometimes not so funny, are my memories of my North American self meeting my charges' Khaleeji selves. Being in France we all conformed to French norms (except for the traditional French kissing greetings between myself and them), or tried. However, although we shared a common language, our life experiences to date were quite different. This was their first trip outside the Middle East for most, and I had never been to an Arab or Muslim country (the Tunisian quarter in Paris didn't count, even if the food was great). They came from relatively wealthy families, where maids and drivers were the norm, and I came from a home where we had a cleaning lady once a week after my mother started teaching full-time, and taking university courses major part-time to upgrade. None of us had camped much before (or ever in my case), but somehow I had the feeling that the accommodations bothered them a lot more than they did me—but then as a girl I did have the "luxury" of the unheated barracks, whereas they were in a communal tent.
None of us ate pork or drank alcohol (available in the village bar/café), but for me it was a personal choice, whereas for them it was obligatory, and more of a challenge, given the failure on the part of whatever organizing body to take halal food into consideration, when having these Kuwaiti teens experience life in the south-east corner of France. However, the differences that stick with me most, and which were the most perplexing at the time, were two-fold: communication; and, gender roles.
Communication
Regarding communication, we seemed to have normal conversations, but in fact we were sometimes "talking past each other". They were very polite, indirect, and sometimes seemed to never ask or say anything that went straight to the point. I, on the other hand, was very polite but rather straight to the point--rather standard assertive Canadian. At times this led to my having the impression that they preferred to tell silly untruths where the truth was very simple and could be just stated outright. I'm sure they must have thought that I was rude at times, or obtuse in comprehending what was for them a clear communication. While I don't remember exact details, I do remember, at one particularly frustrating moment, thinking that the main communication strategy was "Why tell the truth when you can tell a lie?" I did, however, realize that this was a cultural artifact as much of my own cultural patterns as of theirs, rather than a genuine reflection of their truthfulness. Where I would now hear different cultural and linguistic codes (beyond ethnic language used), I then heard only words and intonations, and observed body language and facial expressions that sometimes didn't seem to match.
Kuwait Towers

Gender Roles
Yes, well…
I was raised by 2 feminist parents not to cater to the whims of any Y chromosome person, especially a peer, eg they can serve themselves, do their own housework, complete their own tasks… And these teens had been raised that women did prepare and serve meals, do the housework, help with tasks, and generally cater to their whims. This was especially true as they were used to having maids to provide some of these services.
Diabolo menthe

I was generally comfortable with both genders; did go to the village bar/café (no alcohol though—a diabolo menthe, lemon soda with mint syrup, or a panaché, Orangina with grenadine syrup); and, I honestly don't remember what I was wearing while trying unsuccessfully to smoke/ grill my jeans into semi-dryness. Somehow I think that along with the sweater one of the French girls lent me for the 4-week duration (I was ill-prepared regarding camping clothes), whatever I had on the bottom was on day-loan from one of the French boys. Or was I wearing a knee-length night-gown with the sweater on top? Hmmm, that is sounding about right. In short, I now wonder if I didn't overall exhibit "conduct unbecoming", especially for an "older woman" (well, older than them anyway, by at least a year!).
What I did find funny, and do even now, was that we were on either side of the French norm. Up until that point in my months in France, I hadn't felt particularly North American, nor was I perceived that way, and yet it seemed more marked in these interactions, perhaps because they happened in English. I still remain perplexed by whose brain wave it was to send these very nice teens to France, where they were largely cut off from direct interaction with the other teens, instead of to England, where they would have been able to participate and socialize more fully. Or maybe that was the point?
Have you had any similar or initially puzzling cross-cultural adventures?
How much do language and/or place condition the degree of cultural distance you feel?
What was your first MENA/Western cultural experience?
What misunderstandings, if any, occurred?
What are the aspects you remember fondly?
Any other comments, thoughts, experiences?
Coming next…Part II Watch what you eat!