The Sheik
This post was inspired by a recent one elsewhere (the blogger preferred not to be linked)*. It struck me because of its raw emotion and pain at false accusations of the woman writer being a slut, which of course doesn't put her husband in a very positive light either--even if there is, in all cultures, and in some more than others, a double standard about women's and men's morals. Being a regular reader and commentator, I am confident that these accusations are false—which, in my view makes them even more heinous. Ironically enough, this nasty reputation came out with the announcement of their engagement for a legal marriage, to complement their 2-year Islamic one, which was already well-known; and, from Saudi women on university scholarships—not a high school clique where one would expect such things.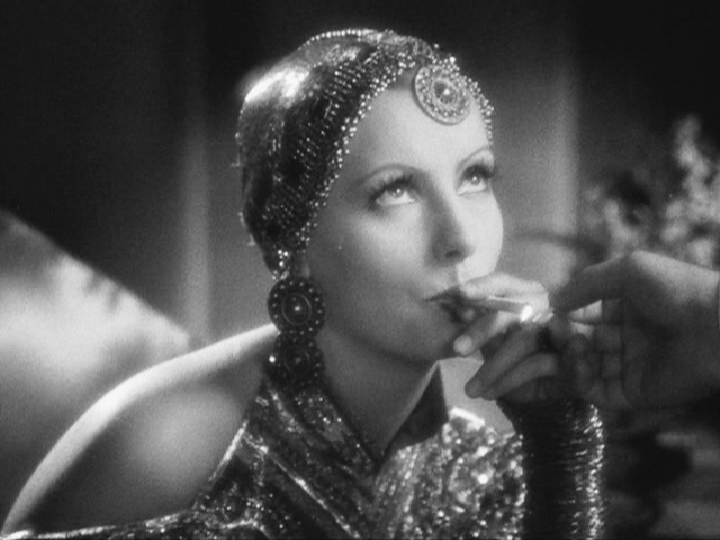 Greta Garbo as Mata Hari
Another aspect of what was disturbing about this, is that it brought back a number of memories. My best female friend during my studies in France had a reputation too, mostly because she had spent her first three years of university completely in love with a Senegalese man. When they graduated he returned to Senegal to take up his pre-ordained life there: tribal position, government position, and Senegalese wife. She went to the UK as a teaching assistant, but was so depressed all fall that her friends there paid an airfare for her to spend the Christmas break in Senegal. Her Senegalese boyfriend was not thrilled with her arrival, and basically hid her in the only hotel he could afford, which was a cheap one where she met a number of nice prostitutes.
Ann Savage in Detour, "Shut up! You're making noises like a husband!"
The trip did bring closure to the relationship, and she understood better what his duties were, so that it was worthwhile from that perspective. The next academic year she returned to France, which is where I met her. We were automatically simpatico and soon were fast friends.
Part way through the year, she was very distressed to learn that her reputation on campus was that of a slut. It seems as if, for some, having slept with one Senegalese previously, she now must have slept with the whole male Senegalese student population. Since she and I had spent a lot of time together when we weren't in class, in the library, or attending to our respective teaching duties, frankly, I couldn't see how she could manage it—especially since in "prime time", ie Friday and Saturday nights, she and I socialized often with other students; and, I often slept over in her residence room so I wouldn't have to wait for a bus in the middle of the night on the same street as the "ladies of the night" were waiting for their "johns".
The same people who had decided this imaginary character for her also shared their "information" with her new boyfriend, an Afro-Caribbean from the UK who visited on the Easter break. Nasty, but why? Just to hurt someone who was generally happy and well-liked? Needless to say, it put a damper on their relationship, and temporarily on ours, as she was so hurt she had trouble knowing whom to trust.
Lauren Bacall
The other memory, triggered by the recent post elsewhere, was that of a patient I saw in my final year of clinical training. She had come to the university student psychiatric service for individual psychotherapy and was re-directed into a group therapy. I had done the initial assessment, and she was put into a group with myself and a professor as a co-therapist, one who also served as my teacher and supervisor. The group was unfortunately comprised 2/3 of social phobics, ie students too shy to talk in a group; and so, she was one of the few "sharing", and not getting a lot of feedback from many others.
One day she called me, with choking sobs, and asked to see me individually. I told her what I was supposed to tell her, that she should raise her concerns in group at the next regular session later that week. She gasped, and said that she couldn't… she wouldn't… it was too awful… I booked her for an individual session later that same day, and prepared to handle whatever flack I was sure to get from my supervisor.
Ingrid Bergman
She came into my office with her smiling social face on, sat down in the "patient's chair", and started crying. Some where in there was the story that, the night before, she had been confronted with the fact that her whole university girls' residence was saying she was a slut. Hmmm… if she was a slut, how come I, her therapist, didn't know about it? Well, because she wasn't. She had been with the same boyfriend since first year, and now, in fourth year, they were engaged. So why did they say this? Who knows; but if the intent was
schadenfreude
(taking pleasure in the misery of others), they probably got what they wanted.
I did get flack from my supervisor, who most annoyingly came into my office after the group session--where both her individual session with me, and the reason for it, were raised, in accordance with the norms of group therapy—and wouldn't leave, blocking my exit with that "angry, but not threatening" posture he had been trained to adopt. He insisted on talking to me about my "feelings" about the extra session, and wouldn't accept that I had no "feelings" (lots of thoughts, no intense "feelings"). He was making me late for my next patient, until the only "feeling" I had was anger at him for being a nuisance. This was not acceptable to "share", so I made up something politically correct, and walked past him to get my next patient from the waiting room. I also began seeing the student in individual therapy in my private office as soon as the group therapy ended with the academic term (she did well).
In short, so many accusations of sluttiness, so little reality to them.
Bogie and Bacall (Married, never divorced)
In the context of Saudi/non-Saudi relationships, are there particular factors which would favour this type of accusation?
What would it be like to move to Saudi with this accusation in the background or perhaps carried forward there?
How does one get a reputation as a slut?
What does it say about the male partner?
How does one handle false accusations like this?
Any other comments, thoughts, experiences?
*
We shall turn to "Cross Cultural Misunderstandings--Part II Watch what you eat!" shortly.