William Hogarth's "Moses Brought Before the Pharaoh's Daughter"
[In Islam, Musa is raised by the Pharaoh's loving wife, Asiyah, one of the 4 most revered women of Islam, whereas in the Judeo-Christian tradition Moses is found and raised lovingly by the Pharaoh's unnamed daughter]
The timing of this long-planned post was determined by the start of the 5 day Fulla Festival in Jeddah, as announced last month in the Saudi Gazette:
Festival for orphans next month
By Fouzia Khan
JEDDAH – Social care homes in Makkah and Jeddah with the cooperation of the Saudi Corvette and Kamaro club are organizing a festival to support orphans and social charity in the Makkah region.
The five-day "Fulla festival" starts in Jeddah Feb. 15.
The aim of the festival, a senior official from the organizing committee said is to create public awareness and seek support for orphans.
The organizing committee has formed a working group to oversee the festival's activities with a number of Saudi youth being involved as volunteers as an expression of their social responsibility, Saud Al-Aqeel, head of the organizing committee of the festival, said.
Over 300 orphans and 1,000 families will attend the festival which includes social and cultural events, competitions and a car race with Saudi champion Sultan Hamidi.
The festival, he said, will also try to inculcate a culture of charitable voluntary work by underlining the importance of caring for orphans and making them happy.
"This festival comes with the aim of establishing role models for orphans and organizing programs that will allow them to display their creative talents. Orphans will have a chance to enhance their creative skills which will help them integrate into the social system," he said. – SG
However, the initial impetus, was from a post a few months ago on Coolred's Rant,
Give Me A Family...Please?
. I must say that the topic of abandoned children inspires Coolred to very high quality ranting. Her title, while appropriately echoing the famous literary abandoned child's,
Oliver Twist
's, "Please, sir, I want more", led to a post inspired by the Arab and Muslim cultures of Bahrain, the GCC in particular, and other MENA country practices, as provoked by this Gulf News article of an extreme situation,
Baby Abandoned At Riffa Mosque
:
LOCAL NEWS
Baby abandoned at Riffa mosque
By ANIQA HAIDER Posted on Tuesday, July 28, 2009
MANAMA: A newborn baby was yesterday found abandoned in a mosque car park in East Riffa. A passer-by came across the boy wrapped in a pink blanket at around 3pm.
National Radiator Industries job supervisor Masood Ahmed was parking his car at the Abdulla bin Darwish Fakhro Mosque, near Lulu Hypermarket, when he spotted the one-day-old baby and called police.
An ambulance took the baby to Salmaniya Medical Complex's accident and emergency unit before being transferred to a general ward.
The Indian and his colleague Raju Varghese had been sent to the mosque to carry out maintenance work on its air-conditioners.
"I was surprised to see a baby and I immediately called my manager."
"He told me to call the police, who asked me not to touch the baby, and they came immediately."
Mr Ahmed was then asked to file a report at Riffa Police Station.
"I believe the baby was given a shower and fed before being dumped in the parking lot as he didn't cry when I picked him up," said Mr Ahmed. "From the looks, I can say he had an Arab look. But you can't be 100 per cent sure."
Police last night confirmed the baby had been found abandoned and was still under observation in hospital.
Sources said the boy might be sent to an orphanage later if he was found to be healthy. Doctors said the baby was "absolutely fine".
Judging by the Comments on the post (and off), this story struck a chord with many who were concerned about the misrepresentation of Islamic and Arab values that such an abandonment represents, the difficulty for even Muslim expats to adopt a baby, the desire for adoption on the part of infertile couples, or the disagreements within a couple about adoption, whether versus or in addition to a biological child, and the differences among Western style adoption, foster parenting, and Islamic kafala, or guardianship. There was also care not to limit the phenomena of pre-marital sex, abandoning children, or rejecting disabled children to any one religion or ethnicity, particularly if one looks historically at Western countries, or contemporaneously at poorer regions of the world.
Unfortunately there has also been a rash of abandoned babies in Western countries, including Canada. Recently in Canada a baby was born in a Walmart washroom stall, and rescued after the mother attempted to flush the boy down the toilet. A quick thinking and well-trained store manager acted to successfully resuscitate the baby after a woman pointed out that a customer seemed to have had medical difficulty in one of the stalls. The unmarried, teenaged mother was later found and charged. Another baby was left in freezing temperatures on a doorstep last winter. However, the baby was well cared for and well protected, and seems to have been left when the mother knew that the home owner would be stepping out the door for his morning jog. His wife, a nurse, took care of the baby well until authorities could take over. Babies in dumpsters, or one in a freezing parking garage have also made the news. Simultaneously, mothers are reminded they can give the baby up for adoption, or "abandon" the baby in a hospital, or at a police station, no questions asked.
Foundling wheel at the "Ospedale Santo Spirito" in Rome
In Europe an increase in the abandonment of babies has lead to the re-establishment of foundling wheels, first created in 1198 in Italy, modernized as an incubator-like
baby hatch
at a hospital. A number of countries have done so, as a response to an increase in abandoned babies, and their deaths. They include Austria, the Czech Republic, Italy, Germany, Hungary Poland, and Switzerland in Europe, as well as Japan and the Philippines in Asia. In Pakistan and India, a number of baby hatches have been created
in an effort to curb
female feticide, and abandonment of babies out of poverty, 95% of whom are baby girls.
A German baby hatch, receives baby warm and safe, then sets off a notification to staff.
One major critique of these practices of foundling wheels and protections for mothers, is a failure to address fathers' rights. While in the past in Europe both poverty and the shame of an out of wedlock birth were motivators, currently the issues are more likely poverty and being overwhelmed by the need to care for an infant. Fathers may or may not be aware of the pregnancy, birth, or abandonment. Legally their rights are often less protected than the mothers'. The child also loses right to know his or her identity--maternal and paternal--as guaranteed by the UN Convention on the Rights of the Child.
Foundling wheel (ruota innocenti) at the "Ospedale degli Innocenti" in Florence
Certain countries have made laws and taken social action to encourage women, who "choose" (not always a very free choice) to have a baby, to also choose to have it live and be cared for. France's law of "
accouchement sous X
", ie allowing a woman to deliver a baby in hospital anonymously, including anonymous to the hospital, was vigorously defended by Ségolène Royal, herself a mother, in the last Presidential elections. Certain US states have created Safe Haven Laws or Baby Moses Laws to decriminalize a mother leaving an infant at a hospital. Due to the economic downturn however, Nebraska, for one, experienced a number of older children being left.
Natural disasters, like the recent one in Haiti, result in new "orphans", some truly orphaned, and others only separated from loving parents. They also invoke rescue responses internationally by others to want to adopt the children orphaned by the disaster. This raises a number of issues about who is a real orphan, profiteering, child trafficking of real orphans or just any child, and whether it is best, especially for older children rather than infants, to be adopted away from their home culture and extended family, and social networks of friends, neighbours, and classmates.
Another high profile media type of adoption, and a controversial one, is celebrity adoption. While it may set an admirable role model for adopting and diversity, the Angelina Jolie phenomenon of adopting a rainbow family seems to me somewhat contrived, and only superficially beneficial to the majority of children in orphanages around the world, by raising awareness and giving a role model for cross-racial and interfaith adoption. Jolie's and others' philanthropic efforts in a number of countries towards orphanages, schools, and hospitals are more effective and admirable in my opinion. Efforts to get at the poverty that is the most common reason for children to be in a third world orphanage are even better, in my opinion.
SOS Children's Villages International
, created by a philanthropist post-WWII to deal with the war orphans and displaced children, is now established in the 3rd world. Its houses, with a small number of children and a "mother", living among other similar houses, seems to be a better model than the older orphanage model, which had large numbers of orphans together in a highly institutionalized setting. SOS Villages also protects children longer term, ensuring their education and integration into working society rather than (re-) abandoning them at an arbitrary age.
Iraqi girls, Al Amal Al Khariya (Virtuous Hope) orphanage, during an American troop's goodwill visit
Islam values the care of orphans highly, and advocates kafala or guardianship, but does not allow for adoption in the Western sense. Kafala is a legal undertaking but the child retains their family name, and does not inherit from the guardians. Mahrem and non-mahrem rules apply as they would in reference to the child's biological family, meaning that the family members the child is raised with would be non-mahrem. This would only change if a baby was taken in very young and breast fed by the mother, making her the child's milk mother, and her biological children breast fed by her the child's milk siblings. The mahrem and non-mahrem rules apply to milk relationships as well as to blood ones.
Kafala has been compared in the West to fostering, but, perhaps because of professional experience, I think that comparison is unfair, in that foster homes are most often highly temporary, and sadly can be as abusive as the original setting; or the phenomenon of being switched from family to family undermines the child's sense of stability and self worth. Also, the fostering ends at age 18 or can end at age 16 if a child wants to opt out of the system (usually into social services to stay in high school). Then again, perhaps I am naive about kafala, which I tend to see as open adoption, and which Coolred described more as long distance funding, or a place to put one's zakat money.
I take the liberty here of recopying my comments on Coolred's post,
Give Me A Family...Please?
, lightly edited for typos and comprehension, to address a number of further points that I feel are relevant on this topic, some of which are responses to others, including Coolred:
Coolred--you are in excellent form on this topic and hit all the main points.
I have an older friend from a verrrry Christian family (Eastern Orthodox) and a culture verrry similar to the Arab culture. She became pregnant while a med student by a med student who wanted to marry her and keep the baby. Her family coerced her into having the baby in a 3rd country, and giving it up to the convent orphanage. She tried for 18 months of that baby's life to be a mother, marry the father, and to find a way to keep the baby, but finally realized the situation was difficult for the child's development and signed adoption papers.
When the child's 16th birthday was approaching, by her own account she was so "insane" with worry and regret that her family performed a (well-greased) miracle and found the teenager. She has worked very hard to build a relationship with her biological daughter, the adoptive family, and now grandchildren (both boys being raised Italian, and Roman Catholic). She still wishes she had had the maturity to stand up to family even to have a perfunctory marriage (the man was abusive) to be able to keep the child, including having her daughter raised by family elsewhere in the world, while she completed her studies. Needless to say, she is in favour of open adoption.
Re: Bahrain--No kafala? No admiration of the Prophet Mohamed's status as orphan and Allah's blessings on those who taken in orphans? No looking west to Jordan and Ms Abir Muhaisan, kafala-adoptee of the Late Queen Alia and King Hussein? No Muslim expats? Or is it all about not having an identified father?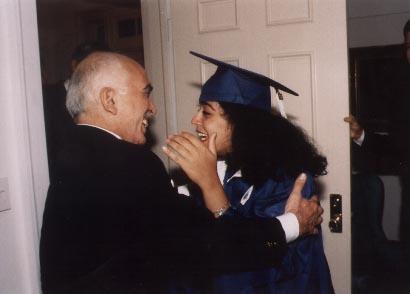 Abir Muhaisen, with her guardian-father, King Hussein of Jordan
Other than kafala, my biggest response to this is DNA DNA DNA! Subpoena the penis [sorry, but in this case the y chromosome person is letting the part speak for the whole, and not manning up], and make it give a DNA sample, and give the child at the minimum legal papers and a legal name. Hispano-American wandering men seem to do at least this much, which makes a huge difference in the children's lives.
Here I am thinking of specific Hispano-American patients, from diverse countries, who are the children of the longtime mistress, and are grateful that their fathers have recognized them legally, provided some financial support, and given them their surname, which makes an immense difference to their social status, and life opportunities. Their attitude in therapy has been, "At least he did that much". All would have preferred to be part of a traditional family, to have the father leave the privileged and socially more accepted first family to marry their mother, but all adore their mothers.
Hispano-American men come to mind because of these patients, and because the culture is similar in many ways to Arab culture, despite the differences in religion, yet different from what Coolred has described in Bahraini culture.
A French psychologist friend, married to a Moroccan and living in Morocco, specialized in orphaned children, is trying to get the kafala system and the legal system there changed to give the abandoned children legal papers and surnames so that they are entitled to Moroccan public benefits like education, and social assistance--maybe like the Italian traditional surname for abandoned babies, "Esposito" (exposed, left), or better yet a fine Arab/ Muslim name.
It sounds as though there is a failure in some situations to appreciate kafala in its best sense of guardianship, which is close to open adoption, often within the extended family.
BTW a friend adopted a Palestinian Christian from Lebanon, through a private adoption, and raised him in her ethnic non-Arab culture, and its specific denomination of Eastern Christianity. He is a happy successful young man. When he was a teenager he became curious about his identity (one of the tasks of adolescence being to create an adult identity), and his adoptive father promised to take him to Lebanon after high school, and to find his mother for him. He was happy with the offer and never did it, although he did spend a few months in Lebanon post-university graduation.
If a Muslim family is looking to adopt they might want to consider adoption or kafala, and then formal adoption in the US from Morocco, which has an active program, and is primarily concerned that the child be raised Muslim by Muslim parents who have the means to do so. Girls are coveted so there are fewer of them. Information is available on a number of sites, including
this one by country
,
this one
, and the
US State site by country
. Lebanon is
also an option
. Palestinian children are harder to adopt
but possible
. This
excellent site for US citizens
(and others) gives the requirements of different countries about adoption. They have a specific pamphlet on adopting from countries where Sharia Family law applies.
Coolred's point about having the loving mother keep the child is still valid, and it is hard for Westerners to get used to the idea that a child without a living recognized father is an orphan, no matter who is in his or her life, including a living, loving mother.
There is a well known and lethal psychiatric syndrome in infants called "failure to thrive" where lack of affection, bonding, and physical holding and loving results in wasting, weakening, and even death, despite receiving the mechanics of care, like food, clothing, cleaning, and shelter. Truly sad, and one of the reasons for closing orphanages here.
["
Barrel children
" are a more recently described phenomenon for children left behind when parents move overseas seeking better employment and leave the children in the care of strangers, neighbours, distant relatives or not much older siblings. This has been studied in regards to the Caribbean for one. The phenomenon of suddenly leaving a child with a grandparent, to work as a maid in Canada, then wrenching the child from the grandparent about 5 years later, has contributed to the psychological challenges of some Caribbean immigrants to Canada, and the dysfunctional family structures of some, notably in Toronto, Canada's Jane-Finch Corridor, which has had a problem recently with gang violence, and school shootings. The funding cuts by the previous highly conservative provincial government made matters worse.]
Addendum:
Abu Abdullah's comment below, and one offline inspired me to include the Quranic references to orphans and their possessions as an Addendum to the post. These are from the Yusuf Ali translation courtesy of this excellent site,
University of Southern California Center for Muslim-Jewish Engagement
, with multiple English translations of the
Quran
,
an Index
,
Search
function, the
Hadith
, and
Resources
on line for the 3 Abrahamic religions, as well as updates on
other activities
of the Center.
The Quran on Orphans:
Surah 2: AL-BAQARA (THE COW)
Total Verses: 286 Revealed At: MADINA
002.220 (Their bearings) on this life and the Hereafter. They ask thee concerning orphans. Say: "The best thing to do is what is for their good; if ye mix their affairs with yours, they are your brethren; but Allah knows the man who means mischief from the man who means good. And if Allah had wished, He could have put you into difficulties: He is indeed Exalted in Power, Wise."
Surah 4: AN-NISA (WOMEN)
Total Verses: 176 Revealed At: MADINA
004.006 Make trial of orphans until they reach the age of marriage; if then ye find sound judgment in them, release their property to them; but consume it not wastefully, nor in haste against their growing up. If the guardian is well-off, Let him claim no remuneration, but if he is poor, let him have for himself what is just and reasonable. When ye release their property to them, take witnesses in their presence: But all-sufficient is Allah in taking account.
004.127 They ask thy instruction concerning the women say: Allah doth instruct you about them: And (remember) what hath been rehearsed unto you in the Book, concerning the orphans of women to whom ye give not the portions prescribed, and yet whom ye desire to marry, as also concerning the children who are weak and oppressed: that ye stand firm for justice to orphans. There is not a good deed which ye do, but Allah is well-acquainted therewith.
Surah 93:AD-DHUHA (THE MORNING HOURS, MORNING BRIGHT)
Total Verses: 11 Revealed At: MAKKA
093.001 By the Glorious Morning Light,
093.002 And by the Night when it is still,-
093.003 Thy Guardian-Lord hath not forsaken thee, nor is He displeased.
093.004 And verily the Hereafter will be better for thee than the present. .
093.005 And soon will thy Guardian-Lord give thee (that wherewith) thou shalt be well-pleased.
093.006 Did He not find thee an orphan and give thee shelter (and care)?
093.007 And He found thee wandering, and He gave thee guidance.
093.008 And He found thee in need, and made thee independent.
093.009 Therefore, treat not the orphan with harshness,
093.010 Nor repulse the petitioner (unheard);
093.011 But the bounty of the Lord - rehearse and proclaim!
The Quran on orphans' possessions:
Surah 4: AN-NISA (WOMEN)
Total Verses: 176 Revealed At: MADINA
004.002 To orphans restore their property (When they reach their age), nor substitute (your) worthless things for (their) good ones; and devour not their substance (by mixing it up) with your own. For this is indeed a great sin.
004.003 If ye fear that ye shall not be able to deal justly with the orphans, Marry women of your choice, Two or three or four; but if ye fear that ye shall not be able to deal justly (with them), then only one, or (a captive) that your right hands possess, that will be more suitable, to prevent you from doing injustice.
004.010 Those who unjustly eat up the property of orphans, eat up a Fire into their own bodies: They will soon be enduring a Blazing Fire!
Surah 17: AL-ISRA (ISRA', THE NIGHT JOURNEY, CHILDREN OF ISRAEL)
Total Verses: 111 Revealed At: MAKKA
017.034 Come not nigh to the orphan's property except to improve it, until he attains the age of full strength; and fulfil (every) engagement, for (every) engagement will be enquired into (on the Day of Reckoning).
What is your opinion on the topic of how to define an orphan, and how extended family and society should care for them?
What are your ideas about international adoptions, including cross-racial, and interfaith?
What measures should be in place in a society to protect the privacy and confidentiality of the mother giving birth to a baby, and to ensure that baby receives care rather than being abandoned or worse?
What are or should be the father's rights; and the childs' rights to know their identity?
Should a man always ask for DNA proof before accepting paternity of a child whose mother is not his wife?
How important is it familially, socially, culturally, religiously to have biological children from your perspective?
What is the stigma or not against unwed mothers where you are?
What is the impact of celebrity adoptions?
What experiences have you had, or do you know about, with open (adoptee's birth family is know) or closed (all identifying information is kept sealed) adoption, fostering, kafala, guardianship?
Any other comments, thoughts, experiences?