One understanding of the Palestine/ Israeli situation is to see it as one of the remaining colonies of the empires built in the 19th century. At that time, as the European nations were carving out their empires globally, England claimed Palestine, and at the same time the Zionist movement for a Jewish homeland, and a return to Eretz Israel began. Although England ultimately lost its empire, on this account the Zionist occupation of Palestinian land, and Palestinians, continues. The historic and contemporary situation of Palestine has been the focus of a whole national cinema and genre within Arab cinema.
Palestinian Director
Michel Khleifi
, the subject of an
excellent profile in Al Ahram
, has been particularly prolific, and successful. He first came to major international attention as the director of
Wedding in Galilee/'Urs fi Jalil
(1987), winner of the Critics' International Film Prize, Cannes Film Festival.
Wedding in Galilee In Arabic subtitled in English Part 1/12
Though best known for this fictional story of an Arab elder who receives permission to hold a traditional wedding feast for his son--but only if the local Israeli commander attends-- Khleifi has directed other remarkable films including: the documentary/fictional
Fertile Memory
, the first full length film to be shot (in 1980) behind "the Green Line", about 2 different Palestinian women whose lives after the 6 Day War, are entwined with the new politial order; the documentary/fictional
Canticle of Stones
(1990), a love story of 2 Palestinians over 2 decades, and set against the reality of the 60's resistance to the Israeli occupation, then the Intifada; the fictional
Tale of the Three Jewels/Hikayatul Jawahiri Thalath
(1995,) the story of a 12-year-old Palestinian boy's quest for the love of a Gypsy girl set during the uprising in Gaza; and, the documentary
Mixed Marriages
or
Forbidden Marriages in the Holy Land
(1995) which explores the interethnic and interfaith marriages of 8 couples in Israel and occupied Palestine, their lives and their loves.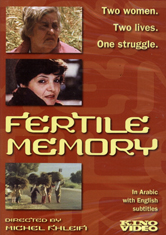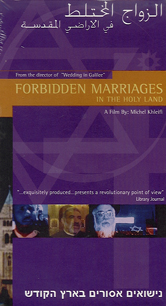 Khleifi
, in addition to the Al-Ahram profile, has been interviewed by qantara.de on the topic of
Film as a Political Work of Art
, and has a number of articles and a resource page in the
New York Times: Michel Khleifi
. His work has also been the subject of individual chapters in major academic books on Palestinian Cinema: Dabashi, Hamid, and Said, Edward (preface) (2006):
Dreams Of A Nation: On Palestinian Cinema
, Verso Books, London, United Kingdom, ISBN 1844670880. Chapter 3: "Michel Khleifi: From Reality to Fiction - From Poverty to Expression" (p. 45 -57); Chapter 4: "Bashir Abu-Manneh: Towards Liberation: Michel Khleifi's Ma'loul and Canticle" (p. 58-69); and, Gertz, Nurith; Khleifi, George (2008):
Palestinian Cinema: Landscape, Trauma, and Memory
, Indiana University Press. ISBN 0253220076. Chapter 3: "About place and time: The Cinema of Michel Kheifi", p.74-100.
A remarkable, yet less noted, film is Khleifi's personal and professional collaboration with Israeli film-maker Eyal Sivan in a road-movie documentary of over 4 hours,
Route 181 South: Fragments of a Voyage in Palestine
, which took them 1 year to make, including a 2-month trip together along Highway 181, named after the UN Resolution 181 setting the borders of Israel/Palestine.
Route 181 Frammenti Di Un Viaggio In Palestina-Israele (Sud)
in Arabic and Hebrew with Italian subtitles (on DVD with English ones) Part 1/8
Route 181 El Sur (2002) In Arabic and Hebrew subtitled in Spanish Part 1/3
Khleifi recently won the Dubai International Film Festival's (DIFF's) 2009 top Arab film prize for Zindeeq. In the words of the Festival:
Acclaimed director Michel Khleifi's story of a Palestinian film-maker 'M' living in Europe, who returns home to Ramallah to film witness accounts of the 1948 Nakba - not only explores the events of that tumultuous era, but places them in context with the uncertainty and tension of present-day Palestine. Over the course of a single day and night, M's solipsistic existence is shaken when his nephew kills a man in Nazareth, placing the entire family at risk of reprisals. This masterful feature - a quietly witty, complex and occasionally surreal depiction of an exile's relationship with Palestine - marks a new direction in Khleifi's work. Written by Dubai International Film Festival
In Khleifi's own words as part of the
Festival's Interview Series
, documentaries allow for controversy which promotes dialogue:
Interview Michel Khleifi, DIFF, 2009
However, Michel Khleifi is far from being the only Palestinian film-maker, or the only film-maker to film on the subject of Palestine. Director Youssry Nasrallah's film Bab Al Shams [Door of the Sun] based on Professor Elias Khoury's book of the same name, and for which Khoury served as co-scriptwriter, addresses the displacement of the Palestinians post-1948. Gate of the Sun
Translated and released in the USA
From the film Bab Al Shams (2004)
Bab Al Shams
was shot over 8 months, in Lebanon and Syria. Along with great acclaim the film has received great criticism, from those who resent that Nasrallah turned to European funding when no Arab funding was available, and from those who disbelieve the displacements he portrays, as described
here
, and reviewed
here
.
Yousri Nasrallah's 2004 Door to the Sun/Bab Al Shams (Arabic no subtitles) Part 1/12
In the 1996 film
Chronicle of a Disappearance
Israeli Arab actor and director,
Elia Suleiman
, chronicled his own return to the West Bank, using himself and his family, friends, and other relatives to transmit a series of loosely connected yet tonally diverse vignettes showing the life and the political plight of the Palestinians, or as he stated "a journey in search of what it means to be Palestinian." Set in the time period just after the assassination of Yitzak Rabin and the election of Benjamin Netanyahu, the film leaves the political tensions as a backdrop, and foregrounds the personal.
Chronicle of a Disappearance (Hebrew: Segell Ikhtifa)
- Elia Suleiman- Part 1/9
NB this vignette is comical in itself without need of much Arabic
For Further Reading:
Articles
Arab cinema
(multiple articles within)
Middle East Video Collection
Malek Khoury. Origins and the Patterns in the Discourse of New Arab Cinema,
Arab Studies Quarterly
. Belmont: Winter 2005. Vol. 27, Iss. 1/2; pg. 1, 20 pgs
Directory of Palestinian cinema, filmmakers, films, festivals, critical writings on Palestinian cinema,
Dreams of a Nation
Books
Viola Shafik:
Arab Cinema: History and Cultural Identity
, AUC Press, 1998, ISBN 9774244753 (Paperback)
Rebecca Hillauer:
Encyclopedia of Arab Women Filmmakers
, American University in Cairo Press, 2005, ISBN 9774249437
For Further Viewing:
Arab Film Distribution
What is your impression of Arab Cinema; how well it is known; how important it is in creating more desirable or accurate images of Arabs and Arab life?
What Arab films have you seen that you would recommend, and why? (Feel free to link and embed if you like)
What is your impression of the Cinema Studies research on Arab films presented here?
Do you have other sites, articles, or books to recommend, whether academic, journalistic or popular?
Any other comments, impressions, recommendations, thoughts?
Coming next...
Part IIc The Post-Colonial Era