As the film poster describes,
Nasser 56
captures the drama and decision-making behind the scenes of the Suez Crisis, precipitated by the withdrawal of a Western loan offer to President of Egypt, Gamal Abdel Nasser, to fund a dam on the Nile. In a bold move Nasser nationalized the Suez Canal, controlling what was then the premier trade route from Europe to its south east. This crisis was averted by American disapproval of an alliance of Britain, France, and Israel, and the USSR's willingness to back Egypt militarily. The diplomatic efforts of then Canadian Ambassador Lester B Pearson (later Prime Minister of Canada) played a major role, and led to the formation of the United Nations Peacekeeping Forces, for which he won a Nobel Peace Prize.
Nasser56
is situated at at time of decolonization not only for Egypt but for all the Arab world, as the years post-WWII saw the progressive breakup of the European empires in the Middle East, Asia, and Africa, throughout the late 40's, the 50's and 60's, and into the 70's for Portugal. The process seemed to be coming to a late completion with the 1997 and 1999 handovers of Hong Kong (British) and Macao (Portuguese) to the Chinese. Still, in the Arab world, Nasser's nationalization of the Suez in 1956, his nationalism, and panArabism had a major impact, as other countries, like Algeria, fought for independence.
Nasser 56 soundtrack with photos of the era
Full Film Nasser 56
Nasser was such a major figure in Egyptian history that during a difficult period in the 90's biographies, films, and documentaries abounded about him.
Nasser56
(1996) was extremely well received, as the article "
Egyptians Weep and Cheer Nasser Film
" by John Lancaster (
International Herald Tribune
, 1996) details, yet another film,
Gamal Abdel Nasser
(1998), has received higher critical acclaim by some, for dealing with all of Nasser's life and blending in real documentary footage, as in the article "
Nasser '56 -- plus
" by Nur Elmessiri in
Al-Ahram
, in 1998.
From the film Gamal Abdel Nasser
Gamal Abdel Nasser from the CIA files; the book The Art of Strategic Counterintelligence The Musketeer's Cloak: Strategic Deception During the Suez Crisis of 1956 by Ricky-Dale Calhoun explores the backroom activities, diplomatic and otherwise, during the Suez Crisis.
Full Film Gamal Abdel Nasser
In the French Maghreb, moving west from Egypt, Tunisia, Algeria, and Morocco were also seeking independence in the 1950's. Algeria's extremely bloody and brutal, quasi-civil war of independence, has repercussions to this day, and was definitely the most hard fought. Yet even after independence in these countries, the transition to a more autonomous state continued long after the agreements were signed, as did rebuilding, and building new infrastructures.
Un été à La Goulette
/
A Summer in La Goulette
(1996 directed by Férid Boughédir), a France/Belgium/Tunisia co-production, is a wonderful comedy set in the sunshine of a beach town, La Goulette or Halq el oued, near Tunis on the Mediterranean coast, in 1966, just before the 6 Day War, and just as Tunisia is re-building post-independence ( granted July 1957, actualized 1963 with French troop withdrawal). As the world is transforming, 3 17-year-old girls are transforming too. The 3 friends are determined to lose their virginity by August 15, each of them, Tunisian Muslim Meriem, French Jewish Gigi, and Sicilian Catholic Tina, choosing to do so with a teenaged boy of a different Abrahamic faith than her own. Their fathers, Youssef, Jojo, and Giuseppe are inseparable friends, and their mothers get along well, all living in the same apartment building owned by Hajj Benji who would like to marry Meriem. To add to the excitement, the town is already in a state of nervous anticipation at the announced visit of Italian actress Claudia Cardinale accompanied by French Jewish Tunisian actor Michel Boujénah. With the fathers' discovery of the girls' plans, the 3 families move from firm friends to sworn enemies, just as the world changes with the beginning of the 6 day war. The age of innocence is over, and the age of experience begins.
The following stills give some idea of the family and religious joys and tensions in the film, which remains charmingly funny in French, Arabic, and Italian, while delivering an intriguing lesson in harmony and discord, and transitions within personal lives and on the world stage.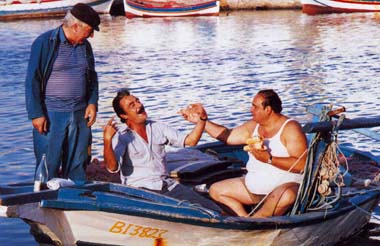 Video of the film's final images on the beach, and the closing credits with the theme song, sung in Arabic by Lotfi Bouchnak
Video of the film's opening credits, and theme song in French
Available on Video, and DVD
For Further Reading:
Articles
Arab cinema
(multiple articles within)
Middle East Video Collection
Malek Khoury. Origins and the Patterns in the Discourse of New Arab Cinema,
Arab Studies Quarterly
. Belmont: Winter 2005. Vol. 27, Iss. 1/2; pg. 1, 20 pgs
Directory of Palestinian cinema, filmmakers, films, festivals, critical writings on Palestinian cinema,
Dreams of a Nation
Books
Viola Shafik:
Arab Cinema: History and Cultural Identity
, AUC Press, 1998, ISBN 9774244753 (Paperback)
Rebecca Hillauer:
Encyclopedia of Arab Women Filmmakers
, American University in Cairo Press, 2005, ISBN 9774249437
For Further Viewing:
Arab Film Distribution
What is your impression of Arab Cinema; how well it is known; how important it is in creating more desirable or accurate images of Arabs and Arab life?
What Arab films have you seen that you would recommend, and why? (Feel free to link and embed if you like)
What is your impression of the Cinema Studies research on Arab films presented here?
Do you have other sites, articles, or books to recommend, whether academic, journalistic or popular?
Any other comments, impressions, recommendations, thoughts?
Coming next...
Part IIb Palestine/Israel Still Decolonizing