King AbdulAziz gifted British Field Marshal Sir Henry Wilson with a pair of his best hunting salukis, Abdul Farouk I and Lady Yeled Sarona Ramullah, after a day of hunting in the 1940's.
Earlier I wrote about some family medical challenges over the Christmas holiday, which raised certain themes within cross-cultural medicine, Cross-Cultural Medical Observations From "The Little Boys' Room":
Part I--Auntilary/Psycho-social
" and "
Part II--Filial-Daughterly/Medical
". Unfortunately, since then my father passed away, as I wrote about in "
Walking with God and the Saints
", and "
Time To Say Goodbye
".
However, I mentioned at the end of the second medical post that another family member, my canine niece, Whisper, had agreed to do her own post, with its own broader focus. In fact, Whisper was the other family medical challenge that occurred over the holidays. Her post will be in 2 parts, in my words here in Part I, and in her words in
Part II
, which will follow on directly (she writes faster than I do).
Miss Whisper
Not Whisper, but a stand in
Whisper is a 12 ½ year old purebred
Coton de Tulear
, who has been a wonderful companion for my sister. Whisper arrived at her home as a puppy, at a time when my sister was living alone. She gave the unconditional love, joyful reception on homecoming, and the distraction that companion pets provide naturally, but which does such a great service to their human owners. I call her my canine niece because she is indeed a part of our family. She knows her place in the pack is that of a special family member, one with lower status than the humans, but a well-treated and well-loved one, with fewer household duties.
Dogs as Pets in Islam
Emirati with the traditional Arabian hunting dog, the saluki
Of course, having a pet, or companion animal, particularly a dog, is controversial in Islam, and potentially controversial for interfaith couples. Based on both the Quran and the strongest Hadith, many, especially conservative Muslims believe that a dog's role in relation to humans is only as a hunting (Quran 5:4), herding, or guard dog (Al-Bukhari Volume 1, Book 4, Number 175). Others extend the role of service to man to include dogs as guide dogs for the visually impaired (as have CAIR, and the British Muslim Council), medical dogs for epileptics, therapy dogs for the emotionally challenged, companions for the socially isolated or emotionally challenged, or generally as pets for anyone.
Indeed if it is acceptable to have only working dogs then current dogs work as companion animals, guides, hunters, herders, guards, police assistants (including drug sniffing), military assistants (including bomb sniffing), therapy animals (aids to exercise, emotional development, socialization, responsibility), etc. Most pet dogs serve as various combinations of companion, informal therapy, guard, and sometimes hunting dogs. Since the presence of a barking dog of whatever size or breed has been shown to deter burglars, all companion animals, or seeming "pets" are guard dogs.
While pet dogs usually do fulfil multiple roles at once particularly as companions, guard dogs for the home, and protectors of family members, whether or not they also are hunting dogs, or working dogs, to be able to bring a dog into Saudi one must designate for it one of the 3 traditional roles, usually guard or hunting dog.
In addition to the debate about the role of dogs in relation to humans, there is debate, based again on the Quran and reliable Hadith, on whether a dog should be allowed inside the house. Some cite the Surah of the Cave, Al Kahf, 18:18 and 18:22, to justify allowing a dog to live inside, others site the same Surah and ayats to suggest that the dogs mentioned were only at the threshold of the Cave, not inside with the sleeping men when the angels visited.
A third aspect is the proper treatment of dogs. Again both the Quran and Hadith justify treating dogs well, training them to hunt properly (Quran 5:4), feeding them from utensils (if from human ones these are to be washed 7 times Al-Bukhari Volume 1, Book 4, Number 173), giving them sufficient water (Al-Bukhari, Volume 1, Book 4, Number 174), and allowing them to roam (Al-Bukhari Volume 1, Book 4, Number 174) . Muslim veterinarians certainly advocate for the good care and treatment of dogs, as well as trying to dispel false ideas based on cultural misunderstandings, as
here
and
here
.
Part of the concern about dogs is the worry about saliva, and other excretions, and purification for prayer. This has been addressed in part by choosing breeds that do not drool, training dogs not to lick, jump or soil, and reducing contact with dogs prior to prayer. For example, a guide dog was allowed by the British Muslim Council to accompany his blind master to the mosque, but remained crated in the vestibule and away from those gathered to pray. The breed had been chosen for its lack of drool, good nature, and intelligence for training.
Breed and the Individual Dog
Madagascar sunset
Whisper shows the traits of her breed, which was brought to Madagascar on ships as sniff hounds to chase the rats, then moved up the social ladder to companion pet to the Royal Family exclusively: excellent companion, low maintenance, separation anxiety when away from family, hypoallergenic, intelligent (about human age 18-24 months), and sniffs her way when in foreign territory. She also has her own personality: food mooch with an inexplicable passion for oranges and tuna (maybe that ancestral seafaring role) and for "cheese-rain" (grated Romano that falls from the "sky" as it is being freshly grated over whatever human recipe), an independent streak about whether or not to obey a command to "come!", and a delight in chasing golfers.
The Rear Approach to the Castle
As her fenced in backyard domain looks on to a golf course, Whisper takes great delight in rapid detection of a party of golfers coming towards her fiefdom, moving down the fairway, and taking their shot--often from opposite her territory. She starts barking at them and warning them off when they get to the far right corner of the lot, gets very rambunctious when they are taking their shot, and woe betide the golfer who has gone into the rough closer to her fence, or worse into the stream even closer; and, the ones who think they should retrieve a wayward golf ball from the embankment in front of her fence are just plain gluttons for having 11 lbs (5kg) of white ferocious puff ball in full "castle defense" mode.
Of course, eventually, these golfers do progress down the fairway, and she gives them a final sendoff and "don't come back" barkfest from the far left corner of the lot before doing a victory lap around the yard--or 2 if it has been a large party, or a particularly slow group. Oh, but what is this? Incoming? More golfers approaching from the west? And it starts all over. Positive behavioural reinforcement in action! They always move off after she barks enough--or so she thinks!
The Neighbours to the East
Whisper, in fact, was misnamed in the mistaken belief that her breed has a very soft to non-existent bark. Instead, it turns out that the breeder had cut the vocal cords of her own dogs to reduce their bark to a "whisper", and Whisper is rather loud, persistent, and, as she thinks, ferocious.
This barking, though for brief periods at a time since she is mainly an indoor dog, resulted in the animosity of the next-door neighbours, a couple in their 70's who hate children and dogs, and inexplicably moved into a brand new survey full of young families with children, dogs, and babies and puppies on the way. After 4 years of being tormented by Mr and Mrs Gloomy--poked at with a rake through the chain link fencing, sprayed with water from the garden hose to "quiet" her--Whisper, one fine Victoria Day Monday, seized the occasion to dash from the front door and make straight for Mrs Gloomy, who proceeded to flail about, exciting the dog more, and thus received a nip in the calf. I say nip because this is, after all, a puff ball passing itself off as a dog, one with teeth missing due to her cardiac condition, and Mrs Gloomy's skin was not broken.
Nonetheless bedlam ensued, as Mr Gloomy attempted to kill Whisper with the blow of a 7-iron to the head (he missed but not for lack of trying), my sister attempted to rescue the dog in between swings of the golf club, animal control and the police were called, threats were made of a lawsuit, a demand for $1000 was sent which included $500 for mental anguish, and an insurance claim was negotiated for much higher than that. The affair of the dog "bite" was finally settled 10 months later.
Out and About in the Neighbourhood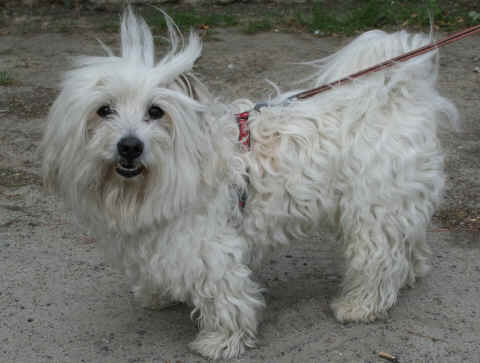 One of Whisper's other famous adventures I had the joy of experiencing first hand, or foot rather. Whisper and I were out for a walk in the neighbourhood, and were returning from afar, when we came upon some men working on a driveway. In fact they seemed to have finished a new cementing, and about 5 were standing about as one did the final smoothing of the surface. It seemed as if there was ample room for us to pass on the sidewalk between the wet cement on the driveway on the right and on the boulevard on the left. We proceeded to do exactly that. All was good for the first few steps and then Whisper took more room on the lead and step, paw by paw by paw by paw, into the wet cement on the boulevard side. I was dismayed and spun around to bring her back onto the side walk, with the result that I put my foot into the wet cement on the driveway side.
I must say that the paving crew demonstrated admirable restraint--or else were stunned into silence. Only one even spoke at all, and he did so as a kindly reminder to remove all cement traces from paws and foot, to prevent injury. Since there was not flicker of understanding on the part of either myself or Whisper, he added to do it soon, otherwise a burn might result. Still nothing, so he used a garden hose to wash off Whisper's paws, and then my running shoe. He did an excellent job too, after which I finally remembered that there is lye in cement. We walked away after profuse thank yous and managed not to step in the newly smoothed cement again.
Veterinary Medicine
Whisper had had a few challenges medically until just prior to Christmas 2009, including low thyroid, treated with thyroid supplementation, and a heart murmur, but both were under control. However, over the holidays she required an emergency cardiac assessment because of lethargy, cough, difficulty breathing, and rapid respirations with a "bellows effect" to her chest. The initial assessment was done by her veterinary generalist, who took the history, did a physical, checked her blood, and took x-rays. He was optimistic that she had no congestive heart failure, but was concerned by the huge size of her heart coupled with her heart murmurs (grade 6/6 on the left and 5/6 on the right). He recommended an immediate pre-Christmas assessment by a veterinary cardiologist. As her regular cardiologist had already left for the holidays, he arranged an appointment with another in a nearby city.
Chiara who?!
Travel to the nearby city involved an hour on the highway, something Whisper is no longer used to since her commuting days between human mother and grandparents houses ended a number of years ago when they all moved in together. For safety reasons then, I was the designated passenger, "dog whisperer" for the journey. Unfortunately my father had woken up ill that morning and was trying to get an emergency appointment the same day with his general practitioner, who was of course on holiday already, and hence waiting for a call back from the doctor covering her clinic.
Part way along the highway my sister asked me to call and find out if this appointment had materialized, and how my father was doing. Unfortunately in her concern, and concentration on getting the call back for the appointment, my mother couldn't seem to understand who I was. She kept guessing at various nurses or office staff, and even giving my name didn't seem to help (not to mention that I had started the conversation with "Hi Mom"). It only resulted in an impatient "Chiara who?!". Attempting to explain further who I was, where I was, and why I was calling, only resulted in her thinking this was a highly unamusing prank, and resulted in her giving a summary "Good bye" and hanging up. So much for filial concern!
Whisper meanwhile had quite adjusted to the car ride, and adopted her old habit of hanging almost fully out the window, sniffing the air and letting the wind blow through her white locks.
Specialty Veterinary Medicine
On her follow-up appointment, Whisper's regular cardiologist also diagnosed congestive heart failure, and estimated she had 6-8 months of life, although it could be longer. This was sad, but not surprising, news. We were already anticipating, from previous consultations, that Whisper would leave us over the next year. That means she will be sorely missed by each of us--my sister most of all, and my nephew who grew up with a canine older sister, learned to walk mostly so he could play with her, and always includes her in the calendar of family birthdays.
To date, Whisper is managing well with a diuretic for her congestive heart failure, and medications including a beta-blocker and a calcium channel blocker to regulate her heart. She is no longer allowed to take the walks we once enjoyed, but she is happy with her daily routines, her large backyard, barking at golfers and home visitors, mooching food, and pretending she has to go outside so she will get a treat for coming back in promptly.
In Favour of Discussion
Whisper hopes that Part I has served to illustrate how a dog can serve both the less traditional companion and more traditional guard dog roles even in suburbia. She has agreed to share her diary with us in Part II of this post, and is happy to have us discuss now any of the roles of a dog as family pet, defender of family and family property, hunter or hunting assistant, service animal, guide, exercise companion, herder, police/military officer, general focus of interest, etc. She appreciates that there may be cross-cultural and interfaith differences of opinion about this; and, secure in her own importance in the world (not to mention her international roots), is happy to have all express their opinions, and even share their own personal dog stories (not too glowingly though!).
What roles do you see as acceptable for dogs?
What is your understanding of the acceptability of dogs as pets in Islam?
What experience have you had with dogs in Arab or other cultures?
How do marrying couples blend the family pets? Who gets custody in a divorce?
What happens when the family pet is ill or has to be left behind in a move?
How much expense on veterinary bills is justified?
How hard is it to have a pet if you are an expat who moves frequently?
What is your favourite dog story?
Any other comments, thoughts, experiences?
Coming next...
Part II One Dog's Diary