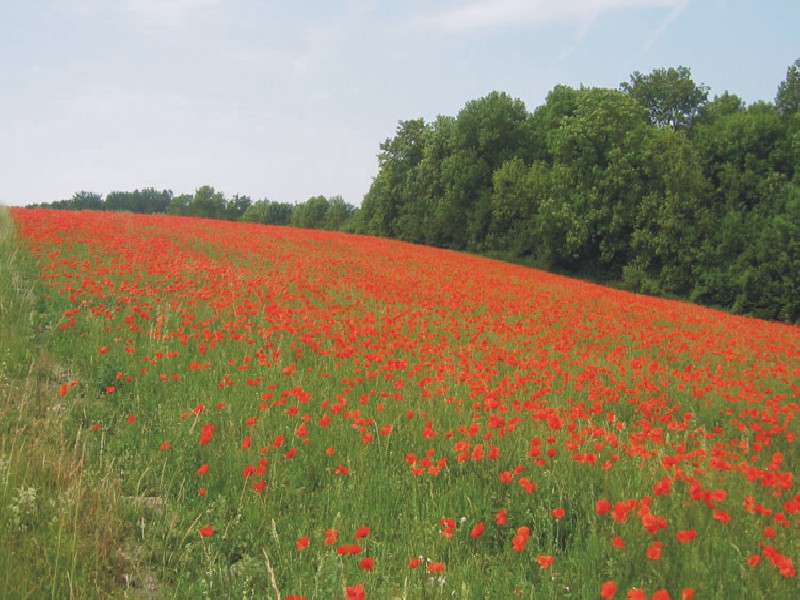 The poppy has become the symbol of remembrance, and so prevalent on November 11, that an alternate name is Poppy Day. The symbolism derives from the prevalence of the corn poppy (not the opium poppy) in the fields of Flanders surrounding the WWI trenches and covering the major battlefields on the Western Front. The poppies then grew between the crosses and carpeted the cemeteries of the war dead.
This symbolism was crystallized by the poem "In Flanders Fields", probably the best known poem in English of the war. It was written by John McCrae on May 3, 1915, in mourning for his friend and former student, Lt. Alexis Helmer, killed in battle the day before. The poem was published in
Punch
on December 8, 1915.
McCrae was both a physician and a writer-poet; and was then the field surgeon heading the battlefield hospital at the Second Battle of Ypres. It was not his first war. He had served in the Second Boer War as an artillery officer, an assignment he preferred to the medical corps. McCrae died in January 28, 1918 of pneumonia and pneumococcal meningitis. At that time he was commander of the No 3 Canadian General Hospital (McGill) at Boulogne. He was buried with full military honours in nearby Wimereux cemetery.
The artificial poppy, made of crepe paper, felt, or plastic has become a source of revenue to support veterans' services, and are sold by veterans through their respective Legions. Though originally worn only November 11, now in Canada they are sold and worn from November 1 to November 11, and sometimes for the whole month.
I have bought 2 so far this year, both from the same discretely placed stand, where trim, ramrod straight WWII veterans (meaning they are in their mid-80s or older) pin them to the left lapel (closest to the heart). I appreciate the opportunity to thank them directly for their service, and to contribute in a small way.
Happy Poppy Day!
Honour a Veteran!
Your comments, thoughts, impressions, experiences?
*This post is timed to appear November 11, 2010, 11AM EST (North America)