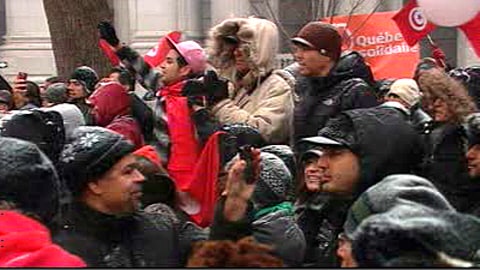 Thousands of Tunisians demonstrating in Montreal on January 15, 2011.
The Canadian government has not yet honoured the Tunisian government's request to extradite for trial Belhassen Trabelsi, oldest brother of ex-President Zine Abidine Ben Ali's wife Leila, and the mafia-like clan's chief embezzler of the Tunisian people. The Canadian government did find a legal way to revoke his permanent residency status, obtained as an entrepreneur/investor in Canada in the 1990's as Trabelsi did not spend sufficient time actually living in Canada. Trabelsi, no doubt on the advice of an immigration lawyer, immediately applied for refugee status seeking political asylum, as someone who would be persecuted in Tunisia if he were to return. As he would no doubt be tried for crimes carrying the death penalty in Tunisia, and Canada doesn't extradite when there is the risk of the death penalty, there is a good chance that Trabelsi will remain in Canada while he goes through the refugee process. During that time he will be able to work and will receive social benefits for his family, eg. public education and health care. He would not be the first wealthy refugee to leave money outside the country and seem to be living (rather high) on welfare, if he were to go that route to protect assets and his refugee claim.
The refugee process can be very, very long. Even if Trabelsi's claim were expedited, there are numerous routes for appeal. Some refugees spend decades, with an immigration lawyer helping them to appeal, and to stay until the law changes and they can find new grounds for a claim, all the while building their "settled in Canada", "responsible citizen"
bona fides
to improve the case for staying. Some have children born here, and argue the need to stay with their Canadian children. The refugee system is an important one to protect the truly persecuted and displaced, but can be abused by people like Trabelsi and others, many much smaller fry looking for economic opportunities. The abuses are a problem when they allow criminal elements into the country, and to the extent they delay, undermine, and taint legitimate claimants.
Hammadi Kammoun is one such legitimate claimant. A Tunisian who was persecuted by the Trabelsi clan, he lives in trepidation of their settling in his adoptive city of Montreal. His story, recounted below in English and (in greater detail) in French, gives insight into the Ben Ali-Trabelsi regime in Tunisia, and into the challenges for legitimate refugee claimants, even those who are successful, and their families.
--Photo Cristiine Muschi for the Globe and Mail
Hammadi Kammoun and his wife Leila M'rad,
emigrated from Tunisia after he was imprisoned for running afoul of the ruling clan.
The long shadow of Tunisia's corrupt regime
LES PERREAUX
Montreal— From Friday's Globe and Mail
Published Friday, Jan. 28, 2011 2:58AM EST
Last updated Friday, Jan. 28, 2011 8:34AM EST
Long settled in Montreal, Hammadi Kammoun is a long way from the horror he suffered in Tunis, but he still can't shake the family who inflicted it.
Billionaire businessman Belhassen Trabelsi, the clan's eldest brother, landed in Montreal with his own wife and children last week and is living in a posh lakeside hotel a few kilometres from Mr. Kammoun's home. The extended Trabelsi clan has a $2.5-million home in Westmount, perched high above the office building where Mr. Kammoun, once a well-off Tunisian civil servant, now works as a security guard.
At one time a senior bureaucrat in Tunisia's post office and a member of the ruling party, Mr. Kammoun also had a family line that plied the Mediterranean for tuna and swordfish over centuries. He decided in 1994 to buy a tuna boat for $200,000, partly as a retirement investment, partly to keep up tradition. He named the fishing vessel the Radhouan, after his youngest son. Three years later, the vessel caught the eye of Tunisia's tyrannical rulers and would sink his comfortable middle-class life.
While the Trabesli who made Mr. Kammoun's life miserable, Mourad, is in a Tunis jail awaiting a corruption trial, Mr. Kammoun says he will not feel safe as long as even one Trabelsi is free in Canada. Western diplomats have described Belhassen as a notorious figure running a mafia-like organization. Mr. Kammoun couldn't agree more, and has asked the RCMP for protection. His wife, Leila, has stopped sleeping at night.
"They tortured and robbed me, and they're here overnight. It took me six years to convince Canada to let me stay as a refugee," says Mr. Kammoun, who has been cheering nightly accounts of the Tunisian uprising. "We're very happy here, but there isn't a member of this family who doesn't have scars, and it only begins with me."
Long before Tunisian dictator Zine El Abidine Ben Ali was driven from power earlier this month, Mr. Kammoun knew the wrath of the rapacious siblings of the president's wife, Leila Trabelsi. Reports on members of Tunisia's ruling clan are filled with descriptions of large-scale greed. They've become famous for living with caged lions, travelling with stacks of gold bars, and funnelling billions in state assets into their personal fortunes, while dominating entire economic sectors such as banking, telecommunications and concrete.
Mr. Kammoun was on the wrong side of the kleptocracy, his odyssey captured in detail in a 64-page brief filed with the Immigration and Refugee board. The IRB accepted his refugee claim based on the evidence in 2006.
The harassment, arrest and torture of the would-be fisherman started when Mourad Trabelsi, who held a small stake in the boat, decided he wanted it to himself.
Unwittingly, Mr. Kammoun had stumbled into something the Tunisia's ruling families valued more than a loyal public servant – the perfect small ship to add to a fleet used for smuggling drugs and other illicit goods along the Mediterranean coast.
About three years after the purchase, Mr. Kammoun says he got a call from Mourad Trabelsi, one of 10 brothers of Tunisia's then first lady, demanding he turn the boat over for use in the family smuggling operation. When Mr. Kammoun refused, he says Mr. Trabelsi then demanded the deed.
A few weeks after Mr. Kammoun balked, he was arrested and spent 18 days in prison. For eight of those days, he was starved, deprived of water, beaten and left for hours hanging upside down. He eventually signed the slip handing over the boat.
After Mr. Kammoun was released, he spent the late 1990s pleading with various contacts in the despotic family to get his investment back. In 1999, after he wrote two letters to the president's wife, friends high in the government instead warned Mr. Kammoun his days were numbered.
He cashed in a few favours to slip out of the country with his three children in 2000. Siblings who remained behind were constantly harassed throughout the decade, Mr. Kammoun says. His mother died of a heart attack in 2003, and he blames the torment for her stress and bad health.
He now lives in Laval, a suburb north of Montreal, and works downtown sitting at a desk monitoring security cameras through the evening. It's mind-numbing work, he says.
Jamel Jani, a Tunisian community activist in Montreal who helped Mr. Kammoun with his immigration hearings, said few outside of Tunisia realize the scope of the ruling family's reach.
The president's wife has 10 brothers who all have families to feed. "They started out poor, they were simple people before they married into the presidency, and they've been determined to pillage at all levels, from simple shopkeepers to entire industries," Mr. Jami said. "Mr. Kammoun's story is typical, and most people find it hard to believe. If the owner of a big company can't resist, what chance does a small businessman have?"
The smaller scale corrupt acts that have shattered people like Mr. Kammoun are less well-known.
"They miss nothing, they leave nothing behind," said Mr. Kammoun as he prepared for a shift sitting in front of those monitors, far from his beloved ship. "As they say in English, anything that moved was theirs."
Mr. Kammoun is living all the euphoria and fear of Tunisia's revolution on his quiet crescent in Laval. He was uplifted by the uprising that drove the dictator out and was terrified earlier this week to learn the Trabelsi patriarch, Belhassen, had landed in Montreal.
The family is now torn over the prospect of return. Mr. Kammoun would like to go back once things settle down. His wife and children are less certain.
His eldest son, Rami Kammoun, has a good job, a wife, a new baby and a house in Montreal. Returning to Tunisia doesn't interest him.
"I guess I've moved on," Rami says. But he acknowledges his father has not, and probably never will.
"How do you get over something like that? I just don't think it's possible."
Over the years, Hammadi Kammoun has managed to keep track of his boat through family and the fishermen's grapevine. Last he heard, the boat was working the waters off Libya. It is now owned by one of the sons of Libyan President Moammar Gadhafi.
**********
Hammadi Kammoun travaille aujourd'hui comme gardien de sécurité.
Sa femme, Leïla M'Rad, est quant à elle préposée aux bénéficiaires dans une résidence pour personnes âgées.
Photo: Martin Chamberland, La Presse
Publié le 29 janvier 2011 à 00h00 | Mis à jour le 29 janvier 2011 à 00h00
La rage au coeur
Agnès Gruda,
La Presse
Il y a 15 ans, Hammadi Kammoun menait une vie tranquille à Tunis avec sa femme et leurs trois enfants. Directeur du principal bureau de poste de la capitale, il ne manquait de rien. Il venait même d'acheter un bateau de pêche en prévision de sa retraite. Les photos de l'époque montrent une famille bourgeoise, tirée à quatre épingles et fixant l'objectif d'un air confiant.
Mais, pour son plus grand malheur, le thonier de plus de 1 million de dollars a attiré l'attention de Mourad Trabelsi, un des nombreux beaux-frères du président Ben Ali, qui a régné sur la Tunisie pendant près d'un quart de siècle et qui a été chassé du pouvoir il y a deux semaines.
Pour prendre possession du bateau qu'il convoitait, Mourad Trabelsi a brisé la vie de Hammadi Kammoun. Et il a forcé toute la famille à l'exil.
Rencontré à Laval, où il s'est installé il y a 10 ans, Hammadi Kammoun a repris le fil de son cauchemar.
Tout a commencé le jour où le beau-frère du président déchu l'a entraîné contre son gré dans une association commerciale pour l'exploitation du thonier. «Mon dossier bancaire avait mystérieusement disparu, je n'avais pas le choix», raconte-t-il. C'est ainsi qu'il a dû céder 10% du bateau à Mourad Trabelsi.
Mais ce dernier voulait davantage. Il voulait le thonier en entier. Devant le refus de Hammadi Kammoun, il l'a fait jeter en prison, où il a été torturé pendant huit jours. Battu, humilié, dévêtu, privé d'eau au point de perdre la voix, il refusait de céder son bateau. «Ils m'ont tout fait», dit-il, les larmes aux yeux. Mais le pire, c'est quand ses tortionnaires l'ont menacé de violer sa femme et sa fille. «J'ai eu peur pour elles, pas pour moi.»
Relâché au bout de 13 jours sans avoir signé l'acte de vente, Hammadi Kammoun n'en avait pas fini avec la famille Trabelsi. Les menaces se sont multipliées. Il pense avoir échappé à des tentatives de meurtre sur la route. Un jour, sa fille et un de ses deux fils ont failli se faire kidnapper par des hommes qui ont surgi d'une voiture gouvernementale.
Sa vie était devenue impossible. Il a fini par comprendre le message. Un jour de l'an 2000, les Kammoun et leurs enfants ont tout laissé derrière eux, y compris le thonier qui est finalement tombé entre les mains du beau-frère du président. Hammadi Kammoun croit que celui-ci s'en est servi pour le trafic de stupéfiants.
En escale à Paris, les Kammoun étaient terrorisés: ils avaient peur de tomber sur des agents du régime. En atterrissant à Montréal, ils ont demandé l'asile politique au Canada.
Ce fut le début d'un nouveau cauchemar. La Commission de l'immigration et du statut de réfugié a rejeté leur demande. «Ils ne nous ont pas crus, et ils ont dit que la famille de la femme du président était très bien», s'indigne Hammadi Kammoun. Pendant six ans, les Kammoun ont utilisé tous les recours possibles pour rester au Canada. Puis, un ultime «examen des risques avant renvoi» a fini, contre tout espoir, par tourner à leur avantage. C'était en juin 2006. Trois semaines avant la date prévue de leur expulsion.
Un Trabelsi à Montréal
Tous ces mauvais souvenirs sont revenus à la mémoire de Hammadi Kammoun, cette semaine, quand il a su qu'un des frères de l'homme qui avait détruit sa vie avait fui la Tunisie pour se réfugier à Montréal.
Et pas n'importe quel frère: Belhassen Trabelsi est l'aîné de cette famille qui s'est approprié la Tunisie sous le règne du président déchu. C'est aussi le chef d'un clan que des diplomates étrangers ont décrit comme une véritable mafia qui monopolisait près de la moitié de l'économie tunisienne.
«Belhassen Trabelsi est le bras armé du clan Trabelsi. Son rôle était considérable dans les opérations de corruption, de menaces et de mise au pas de l'économie tunisienne pour le clan», a dit Nicolas Beau, l'auteur d'un livre sur Leïla Trabelsi, la femme du président en fuite, à ma collègue Laura-Julie Perreault.
Hammadi Kammoun a sa manière de résumer les choses: «Belhassen Trabelsi, c'était le parrain, il est la tête de la famille et il avait le feu vert de la femme du président.»
L'homme de 61 ans travaille aujourd'hui comme gardien de sécurité dans un immeuble du centre-ville. Sa femme, Leïla M'Rad, est préposée aux bénéficiaires dans une résidence pour personnes âgées. La famille Trabelsi, elle, est milliardaire et possède à Westmount un château de 2,5 millions.
Depuis que son chemin a croisé celui des Trabelsi, Hammadi Kammoun vit dans la peur. Et cette peur a resurgi du passé, à l'annonce de l'arrivée de Belhassen à Montréal.
Mais, surtout, il n'en revient pas de voir que le chef de la famille qui lui a causé tant de malheur puisse demander aujourd'hui l'asile politique au Canada. Lui, le vrai réfugié, a vu sa demande rejetée et a dû se battre pendant six ans pour pouvoir finalement rester au Canada. Et Belhassen Trabelsi, avec tous ces crimes sur la conscience, pourrait attendre tranquillement que son dossier soit jugé à Montréal au lieu d'être renvoyé illico dans son pays pour faire face à la justice?
«J'ai la rage au coeur, dit sa femme, Leïla M'Rad. Cet homme a fait beaucoup de mal aux gens. Ce n'est pas correct qu'il reste ici. Il doit être expulsé rapidement en Tunisie. Il doit rendre l'argent qu'il a volé.»
Mais les choses ne sont pas aussi simples. Avant même que le Canada ne révoque son statut de résident permanent, décision qu'il conteste devant les tribunaux, Belhassen Trabelsi n'a pas pris de risque et a réclamé l'asile politique au Canada.
S'il l'estime coupable de crimes graves, le ministère de l'Immigration peut décider de ne pas remettre sa demande à la Commission de l'immigration et du statut de réfugié. Mais l'aîné des Trabelsi peut contester cette décision. Il faudra alors attendre qu'un tribunal tranche.
La Commission elle-même a la possibilité de traiter la demande en priorité, ce qui éviterait de longs délais. Mais là encore, si sa demande d'asile était rejetée, Belhassen Trabelsi pourrait contester cette décision.
Faute d'un traité d'extradition avec la Tunisie, le Canada ne pourrait-il pas poursuivre le «parrain» tunisien devant ses propres tribunaux? Oui, s'il avait commis des crimes contre l'humanité. Mais la juridiction universelle ne s'applique pas aux crimes de droit commun...
Le gouvernement n'a pas beaucoup de prise pour renvoyer Belhassen Trabelsi en deux temps, trois mouvements. Et pour la famille Kammoun, qui s'est battue pendant des années pour pouvoir rester au Canada, ce n'est ni plus ni moins qu'une aberration.
**********
Your thoughts, comments, impressions?
Vos réflexions, commentaires, impressions?