© JOEL LEMAY/24HRS/Agence QMI
The home owned by Ben Ali's son-in-law, Mohamed Sakhr El Materi (husband of Nesrine Ben Ali), a businessman and former Deputy of Tunisia, bought for $2,550,000, 2 years ago (July 2, 2008).
At the beginning of January, 2011, El Materi ordered renovations worth $80,000. Prior to Ben Ali being ousted, it was rumoured that other family members had arrived in Canada, including this son-in-law who did come from Paris for 24hrs. His wife Nesrine, who is pregnant, is in Paris still--maybe. Their daughter was born in Canada two years ago--which gives her Canadian citizenship by birth, and the right after age 18 to sponsor others for immigration.
The home is in Westmount, Montreal--the traditional neighbourhood of Quebec privilege and power, where the current Premier of Quebec, Jean Charest, also lives.
Today, it was
confirmed
that 5-10 members (or "a couple" according to Immigration Minister Jason Kenney) of Zine El Abidine Ben Ali's family arrived in Canada, by private jet at an airport in Montreal, on Thursday, January 20, 2011. These family members, including his brother-in-law, the infamously corrupt and reviled Belhassen Trabelsi, had no problems with entry into the country as they were already "permanent residents".
Permanent resident status
in Canada conveys all the privileges of citizenship--including all social benefits (health care, education, scholarships, grants, welfare), the right to work anywhere in the country at any job for which they are qualified, and the right to enter and exit the country freely, as well as live abroad for extended periods. Permanent residents cannot vote, hold certain high security clearance positions, or be outside of the country for more than 3 years in 5. They may lose their permanent resident status if they are convicted of a serious criminal offense and ordered to leave the country. They may apply to be full citizens after 3 years residence in Canada.
The Canadian government has taken measures to prevent those members of Ben Ali`s family who do not have permanent residency from being granted a visa to enter, or to enter as refugees without documentation. The Immigration Minister has stated that it would be difficult for anyone not having the right of return to their own country to be issued a visa, and airports are on the alert for potential arrivals, which would include those involving an attempt to seek asylum.
The second Mrs Ben Ali, Leila Trabelsi, is widely seen as responsible for much of the corruption in Tunisian business affairs, and for diverting much national wealth to her own family. This exposé written by two French journalists was published on October 1, 2009, despite Leila Ben Ali's legal attempts to have its publication blocked in the French courts. She did succeed in having the book banned in Tunisia, until her husband`s last ditch effort to save his presidency gave Tunisians broader internet access. Et voilà! Excerpts (eg here and here), and online copies.
Tunisian Canadians, most of whom are French speaking and based in Quebec, with a large concentration in Quebec's economic capital, Montreal, are very unhappy, to say the least, with the admission to Canada of Ben Ali' s family. Official spokespersons are asking that all the family's Canadian assets be frozen until the results of investigations in Tunisia are complete.
Some think that the family should be sent back to Tunisia to stand trial. In the event of a request for extradition from the Tunisian government, there could be legal reasons for Canada not to extradite based on Canadian and International Human Rights laws. Notably, Canada does not extradite when there is a risk of the death penalty; Tunisia has a death penalty for crimes against the state, among other serious crimes.
In the comments
to news articles on the topic, some Tunisian Canadians are clinging to the hope that the family were accepted to Canada, but do not have the separate required acceptance certificate for Quebec, meaning at least they will not have the social benefits paid for by provincial taxes. Quebeckers pay substantially higher taxes than do residents of most other provinces--for substantially better benefits.
Based on my own knowledge and experience, that is a slim hope. If the family applied to immigrate to Quebec, which is the most likely, they had that Quebec acceptance first, before Canada would process their request. If they applied to immigrate to Canada (outside of Quebec), once that immigration was accepted they gained full entitlements in all provinces, including the Province of Quebec. (Some entitlements are federal, some provincial, some shared; of the provinces, only Quebec has its own immigration policy.)
Not that the family needs social benefits; and, as other commentators have speculated, they could provide Canadian coffers with a much needed windfall come tax time at the end of April. However, as
Wikileaks
informed the world,
including Tunisians
--who knew, but now had official confirmation that everyone else (including the World Bank) knew--the Ben Ali-Trabelsi clan function more as a Mafia family than as tax-paying citizens. What with Montreal's Mafia wars
currently erupting
, they should feel right at home.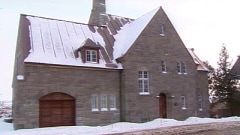 Related Posts:
Tunisia's "Jasmine Revolution": One Month of Popular Uprising; President Ben Ali Flees to Saudi Arabia
Your comments, thoughts, impressions?