Yasmin Siraj, 13, prior to representing the United States at an event in Italy, April 2010.
During this year's
US Figure Skating Championships
(January 22-30, 2011), I discovered a rising young figure skater named Yasmin Siraj. Although Yasmin's maternal Persian roots are often mentioned, I was surprised to learn that she is also Saudi. Yasmin's parents, Ra'ad A. Siraj, the son of a Saudi diplomat, and Aban Makarechian, raised in Tehran, met as graduate students in the United States, married and settled there. While Yasmin's father pursues his career, Yasmin's mother devotes herself to their children, Yasmin and older sister Layla, and to making sure they are familiar with Persian language and culture.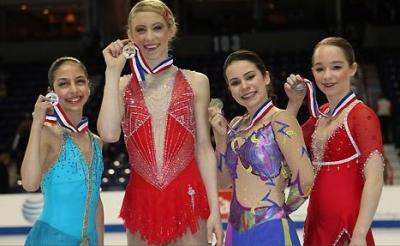 Yasmin Siraj, 13, with her silver medal at the US Figure Skating Championships, 2010 from Iranian of the Day
Yasmin now pursues a place on the senior women's podium after silvers as a junior, in national and international competitions. At only 14 she has a lot of time to perfect her sport performance. Based on her skates this year, and in the past, her strengths are her artistry, and dance and musical sense, while jumps are her main challenge. It will be fun to watch her development, presumably to competition at the 2014 Olympics in Sochi, Russia.
Yasmin is a competitive pianist as well.
Two interesting biographical articles on Yasmin Siraj:
A Fine Balance
From Salchows to Chopin: Get to Know Yasmin Siraj
Yasmin at the 2010 US Figure Skating Championships
Any thoughts on why Yasmin is so strongly identified as Iranian-American and weakly identified as Saudi-American?
Other comments, thoughts, impressions?