Doctors working at a local hospital join other protestors calling for a no fly zone over Libya during a rally at a square by the sea side of the eastern Libyan rebel-held town of Benghazi. Times of Malta
While there is debate about the no-fly zone over Libya, including concerns that it will be ineffective, make matters worse, or open the way for neo-colonization, it seems to me that Libyans wanted it; and, it was a necessary step in preventing the mass murder of Libyans by Gaddafi. As soon as, in an early speech, he called his own people animalistic names, and made a distinction between his people who all love him and these other subhumans which are not part of "the people", the
warning signals for genocide
were set off in my head.
I was glad to see the no-fly zone and concommittent measures pass in the UN Security Council--even if that seemed overdue. I am also happy that there is international rather than US control, again, overdue. This gives more credibility to the mission and relieves internal and external pressure on the US. It is understandable that Turkey wouldn't want to be the only Muslim country involved. It is also welcome that other Arab countries are engaging militarily: Qatar and the UAE. Their involvement undermines Gaddafi's propaganda about Western neo-colonialism, though no doubt he has an endless font of propaganda about who--except himself--is corrupted.
Both NPR and CNN have provided useful Q & A's on the recent shift in command of the no-fly zone.
A map of the locations of coalition forces in the Libya conflict. Credit: Kevin Beesley; Stephanie d'Otreppe (NPR)
Q&A: Next Steps For NATO In Libya
by ALAN GREENBLATT
March 25, 2011
The allied bombing campaign launched last Saturday in Libya has been led by U.S. forces, with significant support coming from the British and the French, along with several other partners.
But now it appears NATO — the North Atlantic Treaty Organization, which is an alliance between the U.S., Canada and 26 European nations — will be in charge.
"We have agreed, along with our NATO allies, to transition command and control for the no-fly zone over Libya to NATO," Secretary of State Hillary Clinton said Thursday.
NATO won't take control of the entire mission immediately. A complete transition is expected to take several days.
"Until NATO takes over the entire mission, you're also going to see U.S. warplanes – F-15s and F-16s – also taking part in this," NPR Pentagon correspondent Tom Bowman said on Morning Edition Friday.
But the decision to put NATO in charge may be a boon politically to the Obama administration, which has not wanted to be seen as acting unilaterally.
To understand what this change in leadership means, NPR spoke with Stephen Flanagan, a senior vice president at the Center for Strategic and International Studies, which is a Washington-based think tank. Flanagan previously held senior positions both on the National Security Council and at the State Department.
How did this change in leadership come about?
Flanagan: It appears that an agreement was brokered late yesterday. They are basically saying that NATO has agreed to take over command and control of the entire operation.
On Tuesday, there was an agreement that NATO would oversee the arms embargo. Then there was the issue of taking over the no-fly zone last night. There will be a few days of implementation of that.
But it looks like there was an agreement that NATO would take over other areas, including protection of civilians and civilian areas. That was surprising because the Turks were anxious about that issue. I suspect the Turks will push to say you can only target people going after civilians directly.
Will NATO be able to coordinate all the countries involved?
Utilizing NATO command-and-control arrangements makes eminent sense. The NATO command structure has a proven track record in organizing such complex multinational operations.
This will be NATO-led mission with consultation of all partners. Qatar and the Omanis have already put forces forward. I don't see any reason why NATO, as it has with Afghanistan, can't fold partners into its planning.
Why does this change matter?
I think it matters in terms of operational coherence. There was definitely some coordination already. Everything I hear is that the U.S., French and British militaries have been working hand-in-glove and there's been a great deal of comfort in having U.S. commanders in the lead.
But this will provide some coherence. They'll share data on what they're all finding.
The other thing is that there is now multinational political oversight. The Turks and the Germans, who have been anxious about doing this, can say now that they have some political oversight, that this is not a rogue operation.
Does this help the Obama administration?
It helps because it grants the mission greater legitimacy. It's a coherent and effective organization, NATO, taking control of this. While the U.S. will still be a major part of this, it doesn't have the Made in the U.S.A. face on this.
It seems like a few days ago, there was concern that making this a NATO operation would make it seem like a Western war against a Muslim state.
That's still a concern, but there's the question of whether you can give this a broader veneer of support. A lot of these countries, including the Arab countries, recognize that NATO has a record, as well as the ability to draw on the unique capabilities of the United States. There's some political check on exercise of this power, the U.S. military power.
I think this provides a helpful framework that can be reassuring. It shows we're not acting alone; it's not the U.S. trying to save every country. We're not doing this alone, this is not open ended. We're working with the international community to develop a plan to transition to a broader coalition of countries.
There have been reports that British ground troops are operating in Libya. Do you expect to see ground troops used by the coalition?
The one thing you don't have is forward air controllers. Certainly a number of the militaries have special forces, or special-force-like units, that can be inserted into the territory. Obviously, it could be a little bit risky. But given that we don't have an organized military force that we are supporting, you might want some forces on the ground to get the precision military striking that all these countries want.
What happens next? How long do you expect this operation to last?
The way the whole operation now is set up, it has to result in capitulation of the [Libyan leader Moammar] Gadhafi regime. The notion is that with just enough pressure this ragtag group will somehow be able to maintain control of the east, but I think it's going to be difficult to have an overt equipping of these forces in Libya.
If the bombing campaign goes on for another week or so and there's not a real diminution of Libyan attacks, people are going to begin to say how much of our national military treasure are we going to spend here.
There will be pressure to have some kind of result.
Exactly. [French Foreign Minister Alain] Juppe is saying it might take weeks. I think they're hoping that Gadhafi will be looking for an exit strategy.
**********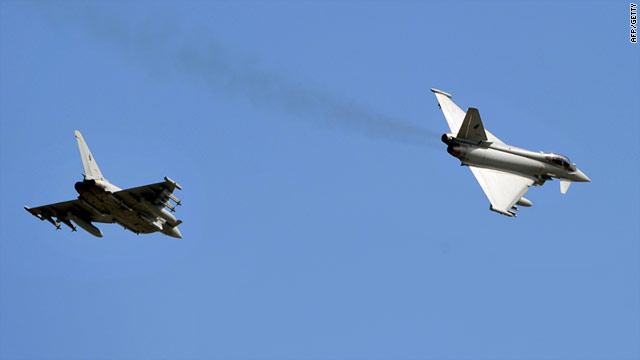 NATO is set to take control of enforcing the U.N.-backed no-fly zone over Libya from the U.S.
Q&A: NATO's command of the no-fly zone
By Thair Shaikh, CNN
(CNN) -- NATO is set to take command of the U.N.-backed no-fly zone over Libya, seizing control from the U.S., which was keen to hand over the reins.
Under an agreement reached Thursday NATO forces will be able to close Libyan air space to all flights except humanitarian ones and will be able to use force in self-defense.
The agreement follows days of political infighting among the coalition, with Turkey and the Arab League expressing strong reservations about a NATO-led force.
Arab League support was crucial for the passage of the U.N. Security Council Resolution 1973, passed on March 17, and NATO Secretary-General Anders Fogh Rasmussen was keen to emphasize that the mission was not European-dominated.
"It is a broad international effort in which we will include partners from the region that have pledged to contribute to this protection of civilians in Libya," Rasmussen said in a written statement.
When will the transition take place?
The U.S. is keen to take a supporting role in the operations as soon as possible, and NATO should be in control by Sunday or Monday, according to NATO officials.
White House press secretary Jay Carney promised Thursday afternoon that U.S. military forces will be shifting to a "support and assist" role in the international coalition within a matter of days.
The United States is engaged in a "time-limited, scope-limited" action, Carney said.
Will NATO take control of the entire operation?
No. Not to begin with at least. The Libyan mission will initially have two parts -- NATO will be responsible for enforcing the no-fly zone and arms blockade, and the U.S.-led coalition that launched the mission will still be handling other military duties needed to defend civilians.
However, NATO could take on a wider responsibility, with ambassadors expected to discuss a plan which would see NATO in charge of all military aspects of the action against Libya.
"We are considering whether NATO should take on a broader responsibility in accordance with the UN Security Council resolution. But that decision has not been made yet," a NATO spokesman said Thursday.
CNN's Paula Newton says: "Whether NATO will assume the role of protecting civilians on the ground -- as mandated by a United Nations Security Council resolution -- remains at issue. The operational heart of the mission could hinge on if and when to intervene with airstrikes when civilians appear to be at risk.
"A decision on what NATO officials are calling 'no-fly plus' could come as early as Sunday after a meeting of NATO ambassadors."
Why is the U.S. so keen to hand over control?
There are a number of reasons according to analysts -- the potential financial burden and the fears of a public backlash at home, especially if the operation extends over a long period of time and is expensive.
"From the beginning it was always on the cards that the U.S. would come in early with its (military) specialty and then hand over control. Uncle Sam is quite entitled to step back," says Charles Heyman, senior defense analyst at armedforces.co.uk.
"Libya is on the fringes of Europe, and the reality is that you can't expect the U.S. to pay for Europe's defense. The U.S. is under all kinds of pressure... the U.S. defense budget is sucking $712 billion from the economy every year. It is also facing pressure over its presence in Afghanistan."
Barak Seener, a Middle East research fellow at the Royal United Services Institute, a London-based think tank, says: "The Obama administration may seek to back out of the no-fly zone, placing the onus on Britain and France... domestically there will be increased condemnations for the open-ended costly nature of the no-fly zone."
Is there a chain of command in place?
Rasmussen said NATO would use the mission's already established chain of command for enforcing the no-fly zone. The NATO supreme commander, an American, would be in charge, but the mission would be under NATO control, Rasmussen noted.
What about intelligence sharing?
CNN's Paula Newton says this should not be a problem. "They've gone through this before. Any structures in place will continue."
Is the new command structure likely to work?
"It is hard to imagine any other organization taking control, there is really no alternative (to NATO) in the absence of the U.S.," says David Hartwell, senior Middle East and North Africa expert at London-based defense analyst Jane's.
The U.S. aerial involvement will ease once NATO assumes full operational control of the no-fly zone, officials say.
"It makes sense however, I imagine the U.S. will still be providing most of the air power," adds Hartwell.
What part will Muslim countries play in the new structure?
The United Arab Emirates announced Thursday that it will send 12 aircraft in the coming days to help patrol and enforce the United Nations-mandated no-fly zone. And Turkey, once reluctant of military operations, agreed to the use of an air base in Izmir.
Other Muslim nations participating in the Libya mission include Qatar, which will begin flying planes this weekend, and Jordan, which has agreed to provide humanitarian support.
Is Gadhafi still a target?
No major political leader has yet openly called for the targeting of Libyan leader Moammar Gadhafi, although UK Prime Minister David Cameron, French President Nicolas Sarkozy and his U.S. counterpart Barack Obama have said they want Gadhafi to go.
There are divisions about the nature of the military operation in Libya because the U.N. Security Council resolution is too ambiguous, say experts.
"I think the fact that there is some flexibility, some ambiguity in the resolution has created the impression that it can mean many things to many people... tensions remain," says Hartwell.
**********
I find it an interesting development that a Canadian general has been named to head the NATO mission, even before he was appointed to NATO forces. Much has been made in the media of US forces not being willing to act under anyone else's command; and, about French President Nicholas Sarkozy thinking he and his military designate should be in charge. In a way, a Canadian is a compromise solution between the US and Europe; a French Canadian a more European seeming one; and, the US is more familiar with working alongside Canadians, and trains many senior ranking Canadian officers, like Lt-General Bouchard. Now let's hope everyone learns to say Lieutenant as "Leftenant" not "Lootenant".
The task force overseeing the Libya operation will be led by Canadian Lt. Gen. Charles Bouchard. (Photo: France Huard, Canadian Forces)
Canadian general to run NATO's Libya command
(AFP) – 12 hours ago
BRUSSELS — NATO has named three-star Canadian general, Lieutenant-General Charles Bouchard, to run NATO's Libya operations, enforcing a UN-mandated no-fly zone and arms embargo, an alliance official said Friday.
Bouchard will also take command of the entire military campaign to protect civilians from troops loyal to Moamer Kadhafi when and if the 28-member alliance takes the reins of the entire Libya campaign from a US-led coalition.
The coalition launched by Britain, France and the United States kicked off its campaign six days ago but Washington, along with several members of the alliance, is anxious to see NATO take the helm as soon as possible.
Reluctance to engage in strikes by NATO's sole Muslim member, Turkey, as well as concerns over the political leadership of the campaign voiced by France, have held up the transfer of command.
After days of fraught talks that Thursday produced a NATO agreement to enforce the no-fly zone while refraining from offensive action, ambassadors of the alliance are expected to meet again on Sunday to try to reach a decision on whether to assume leadershsip of all operations.
Based at NATO's Allied Joint Force Command in Naples, the Libya campaign has been codenamed "Operation Unified Protector".
In Ottawa earlier, Defence Minister Peter MacKay said Canada was awaiting the nomination of the Naples-based officer to the force.
**********
Quebec general to head NATO Libyan mission
veteran officer; A 'yet to be fully defined' operation
BY DEREK ABMA, POSTMEDIA NEWS MARCH 26, 2011 4:02 AM
A Canadian will be taking charge of the NATO mission in Libya - a "yet to be fully defined" mission - Defence Minister Peter MacKay said Friday.
The appointment of Lt.-Gen. Charles Bouchard as commander of NATO forces in Libya came a day after an agreement was struck for countries in the military alliance to assume control of enforcing the no-fly zone in Libya as part of the United Nation-backed mission.
This operation, which was in its sixth day on Friday, has the stated aim of protecting citizens supporting the ouster of leader Moammar Gadhafi from being attacked by the Libyan air force.
Bouchard is a native of Chicoutimi.
He had been deputy commander of NATO's joint forces command, based in Naples, Italy.
He's been a member of the Canadian Forces since 1974 and graduated as a helicopter pilot in 1976.
He has worked at key posts within Norad operations and has served at U.S. military bases on several occasions. He was awarded the United States Legion of Merit in 2004.
Bouchard also holds a number of academic credentials, including having completed a national and international security program for senior executives at Harvard University.
He also holds a bachelor of arts in political science from the University of Manitoba.
At a press briefing on Canada's operations in Libya Friday, MacKay said the appointment of Bouchard to this key role is a testament to the respect Canada's military has around the world.
"I think the decision to have Bouchard take a leadership position here is something that is an international recognition of the role that Canada plays in the world," he said.
"Let me just underscore, I could not be more proud of the work being done on behalf of our country by the men and women in uniform."
But as Bouchard steps into this new role, MacKay said questions remain as to what exactly NATO's mission will be in Libya.
"(Bouchard) will be a commander of the NATO operations - the yet to be fully defined NATO operations. This is evolving still, but the clear indication now is that NATO will assume full responsibility for both the maritime and aerial components (of the mission in Libya)."
MacKay said the UNbacked coalition and NATO forces were, for the time being, operating "concurrently" in Libya.
MacKay said NATO partners are in talks concerning a "no-fly-zone-plus" mission in Libya. Western leaders have expressed a reluctance to extend its military operations to include ground forces.
But NATO spokesperson Oana Lungescu said Friday the alliance would decide "in coming days" whether to broaden its role, which could include ground strikes to protect civilians.
**********
From upper left: Conservative Stephen Harper, Liberal Michael Ignatieff, NDP Jack Layton, Green Party Elizabeth May--each party leader is in contention for Prime Minister and each party hoping for a majority government. The only parties to ever lead Canada federally have been the Conservatives and the Liberals.
Notably missing from the composite above is Gilles Duceppe, leader of the Bloc Québécois, a federal party whose goal it is to achieve independence from Canada for Quebec--because in Canada we treat our seditionists right, and use tax payer money from across the country to help them in their goals. Previously the Bloc Québécois has been the official opposition party, with all the privileges that entails, including the special residence in Ottawa reserved for the family of the leader of the opposition, then Lucien Bouchard, and his American wife, and their children who said phewy to the idea of another referendum on separation.
Joshua Keating of
Foreign Policy
raises a key issue about Canada's imminent federal election, and does so in a humorous manner.
Canada to lead Libya mission. But who leads Canada?
Posted By Joshua Keating Friday, March 25, 2011 - 3:16 PM
Two big Canada stories in the international news today, which -- sorry, Canadian friends -- is two more than normal.
First:
"Canadian Defence Minister Peter MacKay said Lt Gen Charles Bouchard, deputy commander of NATO's Allied Joint Force Command in Naples, has been designated head of the alliance's military campaign in Libya.

Bouchard, a former combat helicopter pilot, will work with his naval and air component commands to enforce both the no-fly zone and the civilian-protection mission in Libya."
Second:
"Angry opposition parties brought down Canada's Conservative government on Friday, setting the scene for an early May election that polls indicate the Conservatives will win.

Legislators voted 156-145 in the House of Commons to defeat the minority government."
In case you're wondering, Canada's military involvement in Libya -- consisting, so far, of six fighter planes, a frigate, and 140 support personnel -- had nothing to do with Harper's latest troubles. The operation is
relatively popular
in Canada and the vote was prompted by allegations that the government concealed the cost of a spending program from parliament.
Harper's conservatives are actually likely to hold on to power in May, but even if they fall, it shouldn't have much effect on the Libya mission. Liberal leader Michael Ignatieff is a
staunch and longtime advocate
for humanitarian intervention who
supports the no-fly zone
.
**********
Your comments, thoughts, impressions?