Police block traffic at the Al-Baia-Balad intersection in Jeddah on Friday.
(AN photo by Muhammad Al-Sulami)
I have been following closely the anticipation of the 2 planned Saudi Days of Protest (March 11, and March 20), and then the actuality of yesterday's "Day of Rage" in Saudi. A number of aspects stand out.
The planned protests have not been well covered in the Western press--except in the business section, where the greatest fear was oil prices spiking to $200. On the day itself there was little coverage. In the English language Arab press there was also little anticipatory coverage. However, there was an emphasis on the security measures in place, and their manifestation well ahead of March 11 as a deterrent: fly overs, troops in the streets, armoured cars patrolling, warnings of arrestation and harsh penalties for those promoting or participating in the protests as seditionists. Both presses covered well the $27 billion infusion into public services that King Abdullah announced on his return from his convalescence in Morocco as a pre-emptive measure. There was some coverage of ongoing protests in Qatif demanding the release of Shia political prisoners, and the recent death of 3 demonstrators there.
As for the social media coverage, blogs, Twitter, and Facebook, I would describe the Saudi-based commentary as understandably cautious, anxious, and skeptical. The caution reflects the reality of reprisals. The anxiety that of the same, and also of the impact within Saudi of economic and political destabilization. Further there is some anxiety about Iranian opportunism towards an unsettled Saudi Arabia. The skepticism was primarily that there would be much of a turnout, but also of the motives of some of the calls for "revolution".
Yesterday, those based in Saudi reported poor weather, poor turnout, and a high police presence. In fact, it seemed that many people stayed home most of the day to avoid being caught up in demonstrations, mistaken for protesters, or generally inconvenienced. Their fear and reactions are realistic and understandable.
What I found most disturbing was the commentary, primarily from non-Saudis, denigrating Saudis generally as too lazy, self-satisfied, and materially motivated to protest and demand reforms in public demonstrations. I find this disturbing not only for the negative generalization, but for the ease with which people are happy to volunteer others for sacrifice. Some may not appreciate the risks, coming from less restrictive countries, with less draconian pre-emptive and retaliatory measures against dissent. Others are based in Saudi, and should have a better understanding. Maybe they are too ensconced in an expat bubble; or maybe, they are indulging in the universal activity of inciting others to take risks they would not.
These incitements tend to coalesce in the tautological "People get the government they deserve". I'm not sure that is even true in a democracy, where minorities, whether formal or informal, get the government the majority wants. While there are more mechanisms for reform and protest in a democracy, action and change are slow. It seems to me far less true that people get the government they deserve in an autocracy of whatever ideology. Often they get the government they were born into. Often they have witnessed first hand the gruesome results of dissent, or been told factual cautionary accounts. That isn't to say that change should not occur, or people should not work toward reform, only that the margin of manoeuvre is narrower, and the risks higher. It is to say that volunteering for danger is best reserved for volunteering oneself.
Below are 5 articles about the March 11 "Day of Rage". The first, by blogger Ahmed Al Omran of
Saudi Jeans
,
anticipates the day. The others report on it from a number of perspectives:
Al Jazeera
places the day in the context of other MENA countries' ongoing protests; the
BBC
offers an excellent report of one journalist's personal experience;
Arab News
emphasizes the non-event and the public support for King Abdullah calling the day a "damp squib", that is, a wet small explosive device, or dud--a failure of expectations; and, the
Wall Street Journal
interviews Prince Al-Waleed bin Talal--seen as progressive, yet supportive of the Saudi royalty to which he belongs--who claims the protests were a "tempest in a teapot".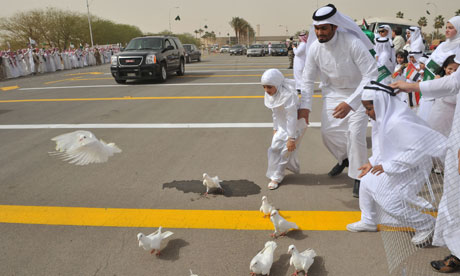 Saudi children chase doves as King Abdullah arrives in Riyadh on 23 February.
The city has been the scene of protests. Photograph: Fayez Nureldine/AFP/Getty Images
Saudi Arabia unrest: a blogger's view
How worried is the Saudi government about the unrest filtering through from surrounding states – and what happens next?
Ahmad [sic] Al Omran
The Guardian, Thursday 10 March 2011
Like many people around the world, I followed the uprisings in Tunisia and Egypt very closely, watching the youth revolt to overthrow autocratic regimes that oppressed them for decades. The scenes from Tunis and Cairo were exhilarating and inspiring. In the days following the fall of the Mubarak regime, there was one question on everybody's mind: "What about Saudi Arabia?"
Finding itself surrounded by unrest in Bahrain and Yemen, the Saudi government was on its toes, fearing that its people might soon catch the protest bug. Sure enough, that's exactly what happened. With protests in the Eastern Province and Riyadh last week, the regime had to respond quickly.
However, being responsive to the people's demands has never been a strong suit of the government. Despite repeated calls to reform in recent years, very little has been accomplished in the way of true political and social reform, and the changes we have seen have been merely cosmetic.
I have become very pessimistic about the prospects of reform for my country. The huge age gap between the young population and the ruling elite makes it nearly impossible for the ruled and the rulers to communicate and understand each other. We practically speak two different languages, and I don't see how the government can keep up with our aspirations.
We are sick and tired of the status quo; we want change and we want it now. The demands are clear and simple: a constitutional monarchy, the rule of law, justice, equality, freedom, elections, and respect of basic human rights. Is this too much to ask in this age and time?
Everyone now is waiting to see what is going to happen on Friday. In the past few weeks, two Facebook groups have called for protests around the kingdom on 11 March. The two groups have more than 17,000 members, but it is almost impossible to predict how many of these will take to the street. While I think we might see some protests in the Eastern Province, and smaller ones in Riyadh and Jeddah, I remain very sceptical that we will see large-scale street action.
However, the situation will be really interesting to watch and to see how the government reacts. It seems to me that the government is in a lose-lose situation. If they do not stop people from protesting, the people will feel empowered to repeat it and continue protesting, defying the government's ban in a way that makes it difficult for authorities to restore it again. But if the government uses violence to crack down on protesters, this will fuel their anger and push them to protest even more and in larger numbers in the future.
Let us wait and see.
**********
At least three people were injured after police dispersed several hundred protesters in Qatif on Thursday [Reuters]
Arab world witnesses more protests


Protests seen across many Middle East nations but "Day of Rage" fails to take off in Saudi after major security effort.
Last Modified: 11 Mar 2011 14:58 GMT
Several countries across the Arab world have witnessed fresh anti-government protests, although "Day of Rage" demonstrations planned in Saudi Arabia failed to materialise in the wake of a security clampdown.
Demonstrations in Saudi Arabia were supposed to start in after Friday prayers at noon but as the mosques emptied there were no signs of rallies, with security forces manning checkpoints in key locations across several cities.
Online activists using Facebook and Twitter had called for the "Day of Rage" and a "Saudi March 11 revolution" demanding a fully elected parliament and ruler.
In the strategic Olaya commercial centre of the capital Riyadh, where protesters were urged to congregate, hundreds of security personnel surrounded the mosque and inspected motorists' identification documents.
Clerics sermonised against demonstrations, saying public agitation was unjustified under Islamic teachings and would only spread chaos.
The Red Sea port city of Jeddah, the second biggest Saudi city, was also calm with a significant numbers of police on the streets.
Tensions were high in the eastern province city of Qatif, where three Shia protesters were shot and wounded by police dispersing a demonstration late on Thursday.
The shooting happened when several hundred protesters, all Shia and including women, took to the streets of the city to demand the release of nine Shia prisoners, said a witness, requesting anonymity.
A small demonstration calling for reforms and the release of Shia prisoners also took place Friday, a witness told the AFP news agency, but there were no reports of unrest.
Two activists said more than 200 protesters had rallied in the city of Hofuf, which is close to the eastern Ghawar oil field and major refinery installations.
The city has seen scattered protests in the last two weeks by minority Shias, who complain of discrimination in the face of the country's dominant Sunni majority.
[...]
**********
Policemen standing guard outside a mosque in the capital today
Saudi Arabia show of force stifles 'day of rage' protests
By Sue Lloyd Roberts
BBC Newsnight, Saudi Arabia
I took a taxi from our hotel at midnight on Thursday to find police cars with their lights flashing parked at five-metre intervals along all the main streets in Riyadh.
I was pulled over by the police for merely filming on my mobile phone.
On Friday, the city woke up to the sight of more police on the streets than people, and the atmosphere was tense.
The anti-government "day of rage" rallies calling for democratic reforms - not revolution - in this oil-rich kingdom were supposed to start after midday prayers, but people stayed away.
It was hardly surprising, given that over the past few days there had been warnings in the newspapers of the punishments demonstrators could expect - lashings and imprisonment.
And then there is the surveillance and intimidation.
Yet demonstrations have been gathering momentum throughout Saudi Arabia. It was reported that police opened fire on protests in the eastern provinces - home to the Shia minority - on Thursday night.
We went to the eastern town of Dammam to meet the families of political prisoners - some of whom have been held without trial for up to 16 years.
Opposition activists say there are some 30,000 political prisoners in Saudi Arabia, the government puts the figure at one third of that.
My emails and mobile phone are being monitored. I cannot meet you. I am sorry. This is a sad day for Saudi Arabia
Demonstrator
We didn't know we were being followed by the security forces, and after we had finished filming we were arrested and our tapes taken from us.
The message is clear - people should not protest, and if they do, journalists should not report it.
On Friday, I was due to meet one of the demonstration organisers who said he would accompany me to see the protests. But an hour before the rally was due to begin, I received a text message.
"My emails and mobile phone are being monitored. I cannot meet you. I am sorry. This is a sad day for Saudi Arabia."
Demonstrations are illegal in the autocratic kingdom of Saudi Arabia, a country with no legal political parties or mass movements that has been governed by the House of Saud for 80 years.
The government claims people have no need to demonstrate because they have a method of government that works.
But one opposition spokesman described his country to me as "a police state masquerading as a theocracy".
We journalists were herded into buses on Friday and taken to see the "day of rage" non-event.
Helicopters hovered overhead, there were road blocks and cars being searched, hundreds of police cars and thousands of police - but not a demonstrator in sight.
Suddenly, as we were all getting bored of filming each other, a solitary man in his 40s, dressed in casual Western-style t-shirt and jeans approached us.
"We want freedom. We want democracy," he shouted.
"Why are you saying this, in front of all the police?" I asked him.
"I shall go to jail, I know," he replied, shaking with nerves and frustration.
"But the whole country is a jail. I had to speak out."
Within a few minutes, the man was surrounded by a dozen or more journalists, he was the only one in Riyadh on Friday giving a press conference.
There were so many of us there that there was nothing the police could do except speak nervously into their mobile phones and then shepherd us all back into our buses.
But I refused to go and accompanied the man to his car.
I asked for his phone number and shall call him at home - but I don't expect him to answer.
**********
A supporter of the Kingdom's leadership decks up his car with a poster and the king's picture.
(AN photo by Muhammad Al-Sulami)
'Day of Rage' a damp squib
By MUHAMMAD AL-SULAIMI, SIRAJ WAHAB & MD. RASOOLDEEN
Published: Mar 12, 2011 00:20 Updated: Mar 12, 2011 00:33
RIYADH/JEDDAH/DAMMAM: It was a normal Friday yesterday across the Kingdom despite worries that the calls on Internet social sites for a "Day of Rage" might be heeded.
"There was nothing of the sort," security spokesman of the Interior Ministry Maj. Gen. Mansour Al-Turki told Arab News four hours after the Friday prayers. There were no demonstrations anywhere in the Kingdom, he said.
People were wary after reports of the incidents that marred protests in Qatif on Thursday, leaving three people injured.
But Riyadh, Jeddah and other cities were quiet for a Friday that saw pleasant weather, although there was a strong police presence. In both Riyadh and Jeddah, police helicopters were briefly in evidence.
Al-Turki refuted agency reports that demonstrators had been fired at in Qatif on Thursday. "It is totally untrue. What actually happened was that the police had to fire shots in the air to control an emerging situation by a very small number of protesters who snatched a video camera being used by a policeman to document a shooting incident. This was believed to have come from the center of the small crowd," he said. Al-Turki was not certain if the protesters returned the camera.
In Allegiance Square (Al-Baia), downtown Jeddah near the Foreign Affairs Ministry, which had been one of the sites specified by the "propagators of sedition" as a location for the protests, the "Day of Rage" was nowhere to be seen before and after Friday prayer. There was no intensified security presence either.
Later in the day, during Arab News' tour of the city, it found the Al-Baia in Balad district closed and a sizable number of police present in nearby streets. But they all disappeared by dusk. A police officer said the square had re-opened after Maghreb prayers.
Young Saudis could be seen driving their cars carrying messages of support and loyalty to Custodian of the Two Holy Mosques King Abdullah and pictures of him.
"I plastered photos of the king all over my car. It cost me SR650. I just wanted to send a message to those who called for demonstrations," said 30-year-old schoolteacher Abdullah Al-Baqami. "We love our country and our king. You will not make us alter our love for our country and our king by what you say," he wrote on his vehicle. Al-Baqami said he intended to park his car the next day in front of the school where he is teaching so that the students could read the message.
The king's photo was posted in the window of a shop in Jeddah selling car accessories by Faisal Al-Marashi, a 22-year-old student at King Abdul Aziz University. "Our love for our country and our government isn't new. We inherited that from our forefathers who vowed allegiance to King Abdul Aziz," he told Arab News.
Social networking site Facebook also carried postings of Saudis who were opposed to the protest plans. Their number took up more than 30 pages and they exchanged congratulations on Friday's protest turning out to be a non-event.
The unprecedented rallying of the Saudis behind their king took the world by surprise, a Facebook post said. One blogger praised citizens of Jeddah for not making even the slightest move to protest.
Meanwhile, towns and cities across the Eastern Province were also quiet and activity somewhat subdued as many people chose to stay home. In Qatif, where there was a small protest Thursday night, town elders urged people to stay off the streets and most appeared to heed that advice. One Qatif activist said he heard there was a protest in Hofuf some 130 km south, but Arab News could not get any independent confirmation of this.
On Friday, mosques were full for noon payers. Two hours later, at around 1:30 p.m. Arab News visited the city and found streets and alleyways empty. Restaurants and gas stations were open, but there were few customers. There were not many vehicles on the streets. At least one helicopter flew overhead, though there were far fewer men in uniform. Qatif was quiet, which is generally not the case on a typical Friday afternoon.
When Arab News spoke to one resident about not seeing many people on the streets, he was not surprised.
"What do you expect to see on a Friday afternoon at 2? People are resting at home after saying their prayers," he said. "Everything is fine - no protests, nothing."
A group of expatriates at a gas station close to Qatif Plaza mall seemed nervous. They said it was abnormally quiet for a weekend.
A little farther from Qatif, a small zoo was almost empty with just two families visiting.
"Yesterday was particularly bad. We had no visitors, which is highly unusual," one of the zoo staff said.
"We usually have hundreds of families and children packing this place on Thursday and Friday. Reports of trouble in the area have kept people away."
Some expatriates remained home on Friday. "We were told by our company managers to avoid going out, and that is what we did," said John Sebastian, a sales engineer at an Alkhobar-based ticketing agency. "We were mostly watching television and remained glued to it after dramatic images began appearing of the tsunami in Japan."
Other people decided not to worry about anything and just enjoy the weather. "You media people are the ones to create all this hullabaloo," said Pakistani businessman Munnawar Azeem Chaudhry, who took his wife and three daughters to the Dammam Corniche.
"Look for yourself. Everyone is having a ball," he said pointing to an Egyptian family barbecuing kebabs over hot coals.
Congregations dispersed peacefully after Juma prayers in Riyadh mosques.
Security was visibly tight. In Olaya Street, between Faisaliah Tower and the Kingdom Tower, there were more than 20 patrol cars.
The traffic was thinner than usual with people preferring to stay home after prayers. However, supermarkets saw regular custom and even roadside fruit and vegetable vendors in front of mosques enjoyed brisk business.
Saudi Arabia had announced on Saturday that it would not allow any demonstrations in the country that are aimed at undermining the Kingdom's security and stability.
"Laws and regulations in the Kingdom totally prohibit all kinds of demonstrations, marches and sit-in protests as well as calling for them as they go against the principles of Shariah and Saudi customs and traditions," the Interior Ministry had said in a statement.
The Shoura Council and Board of Islamic Scholars also severely condemned any form of protests against the leadership describing it as an action against the tenets of Islam. Jumma sermons in Riyadh mostly focused on finding solutions through dialogue as the only way advocated by Islam.
The imam at a mosque in Malaz district said that the Kingdom's foundation is based on the book of Allah and the teachings of Prophet Muhammad (peace be upon him).
"We cannot be dictated by the democratic policies advocated by Western countries," the imam said.
Addressing the country's youth, the imam at Al-Rowaidah Mosque called them the backbone of the community. "We are well aware of their needs and aspirations," he said, stressing that youth must be able to differentiate good from bad for the greater good of the nation.
On Thursday, football fans made plain their allegiance at the match between Al-Nasr and Al-Hilal in Riyadh's King Fahd International Stadium. They raised the photos of the king and waved the Saudi flag. Football fans in Makkah and Madinah made the same show of support. One banner held up by the fans read: "We do not deserve to live in a country that we are unable to protect."
A senior diplomat, who performed his Friday prayers at a mosque in the capital's Diplomatic Quarter told Arab News that everything went on as usual. He said that he had driven around the city following prayers and the only thing he noticed that was different was that security arrangements had been beefed up in some areas.
**********
MARCH 11, 2011, 3:54 P.M. ET
Saudi Prince Alwaleed: Day Of Rage Was 'Tempest In A Teacup'
DOW JONES NEWSWIRES
Saudi billionaire Prince Alwaleed bin Talal, head of Kingdom Holding Co. (4280.SA) said few demonstrators were present in the Saudi capital of Riyadh Friday, calling the planned "day of rage" protests a "tempest in a teacup."
"Today on the streets people had flags out," Alwaleed said in an interview with CNBC. "They said, 'we love our king.'"
While protests planned in the Saudi capital never materialized under a heavy police presence, hundreds of protesters took to the streets Friday in the Saudi Arabian city of al-Hofuf in the oil-rich Ahsa region. About 500 protesters, mainly Shiite Muslims who make up a large part of the region's population, called for the release of prisoners, according to activists there.
Alwaleed said the unrest spreading throughout the Middle East shows the need for dialogue with the people.
"We hope that this thing is not contagious and does not spread at all," he said. "But clearly the Arab world has to look at the future and reflect the needs of its people."
Meanwhile, he said the recent surge in oil prices above $100 a barrel doesn't reflect supply and demand fundamentals, even with the drop in Libya's oil output.
"It is not justified, it is a panic situation," he said. "If all the production of Libya disappears tomorrow morning, one country, Saudi Arabia, can cover it immediately."
As the largest individual investor in Citigroup Inc. (C), he also said the bank's problems are behind it, and he is happy with the direction Citi Chief Executive Vikram Pandit has taken the bank.
-By Jerry A. DiColo, Dow Jones Newswires; 212-416-2155; jerry.dicolo@dowjones.com
**********
Related Post
King Abdullah Returns to Saudi: Concerns About Succession Fade as Concerns About Reform Grow
Your comments, thoughts, impressions?
Addendum 1: See also Eman Al Nafjan of Saudi Woman's Weblog, on Saudi Arabia's day of little rage
Addendum 2: See also Duha Al Husseini of The Eternal Philosopher, on Saudi Rage?