I was pleased to discover this article about Sitara Hewitt, the Pakistani/Welsh-Canadian model and actress who plays Dr Rayyan Hamoudi (Lebanese/English-Canadian) on the Canadian sitcom
Little Mosque on the Prairie (LMOTP)
. The sitcom has had well deserved success internationally as the first Western sitcom to focus on a Muslim community, in its diversity, and with its regular life challenges as well as religious/ethnic ones.
LMOTP was inspired by the creator's,
Zarqa Nawaz
', own experiences moving from liberal Toronto, with its substantive South Asian and Muslim communities, to a small town in more conservative and white Christian Western Canada, where she experienced life in a more minority position.
The interview below has some of the hallmarks of standard celebrity interviews, but is most interesting for the insights it offers into growing up bi-culturally and internationally, and for seeing the positives in a strong adherence to each culture--in its time and place. Core values don't have to change just because dress codes and plumbing do.
Sitara Hewitt: Living With Heart
Interviewed by Barbara Goodman
Editorial Director
Canadian Health and Life Style
Winter 2010-2011 Issue
Known in 60 countries around the world as Dr. Rayyan Hamoudi of the popular CBC Television series Little Mosque on the Prairie, Sitara Hewitt started in the entertainment industry as a dancer. One of her first roles was in Deepa Mehta's Bollywood Hollywood. Her diverse childhood upbringing and adventures have helped her carve a life where she can reach millions. Sitara shares some of her deep-felt philosophies, her heart and love with us.

BARBARA
You grew up in the village of Elora, Ontario. How long did you live there?
SITARA
 I lived there until I was 18. Today, I live in LA part of the year, but now that we have a baby, I fantasize about living in Elora. Those years seemed like simpler times, there was so much more space to enjoy. It has a beautiful Gorge, there's forest everywhere, and the little downtown has a variety of art shops.
My mom tells a story that when I was 18 months old, I decided to go for a walk down the street on my own.
A neighbour saw me and brought me home; that's the beauty of a small town, everybody knows everybody. I guess that was the beginning of my journeying.
Life was sometimes challenging as a child in a small town, there were no other families of different ethnicities; my mom is from Pakistan. Although I felt different at times, I also felt special. I learned that you can be different and still fit in and it helped me to become a stronger, more accepting person. I felt safe. I love it there.
B
You've had some amazing experiences living in other countries because of your parents' work.
S
Yes, my parents are professors of geography. And when my father, who is also a professor of environmental studies, would travel to study glaciers, my mother would study the culture of the area. We travelled to many remote places including northern Pakistan, my mom's homeland. We lived in a in a remote Himalayan village on and off for four years, a totally different world sheltered by the height of the mountains, the people don't even know what we have. It's not modernized in any way: there's no running water and the people live sustainably with the planet. They grow crops and raise animals for their food; they don't waste like we do, and don't have much. I can't talk about what I do because they haven't experienced movies or TV, yet they're so much more intelligent about the world. An incredibly strong-willed people with fulfilling lives. They have all they need without being greedy, taking from each other or the earth. They don't hurt one another so there isn't a need for a justice system.
When I lived in Pakistan I covered my hair like the other women and slept on the mud floor of a mud hut, like everyone else. My girlfriends and I would hang out and talk about boys but not socialize with them, that's not a part of their culture. After a certain age we couldn't even look at them; there marriages are arranged. I still have friends there and when I visit, about every two years, I have a great time. Although they've never seen or met anyone like me, they treat me like a sister. They're generous and hospitable; they'll give you the best food and clothing.
It was the oddest thing, one week I was living in a mud hut and the next back in Toronto working at a nightclub – totally different scene and dress. How blessed am I to live in these extreme worlds and thrive in both. Although if I had to build my own mud hut, churn my own butter, milk the goat and have 8 children, I don't know how well I'd do. (We giggle at these images.) When I was 13 years old, I had been living in Northern Pakistan for so long the ladies of the village were ready to arrange a marriage for me!
B
With all the travelling and living in diverse places do you feel it's made you more flexible?
S
Absolutely. I can fit in anywhere and not compromise my integrity and values.
B
How do you think that affects you today?
S
I hope it's given me a broader perspective of the world. It's definitely given me a desire to see more of it. I'm grateful that my parents were so adventurous when I was a child. Now that I have my own child, I see exactly how brave my mom and dad were to have taken us kids to far-off places. When my three sisters were little, they lived in an isolated hut in the Rocky Mountains: no running water, with grizzly bears that rummaged through the garbage and banged on the house with the cans. My mom was so brave, and I sometimes hesitate at taking Rowan on a plane for 7 hours. My mom's such a warrior; she inspires me to just take the baby and go.
B
How are you a warrior?
S
I don't give up. I'll continue to be a better person and find ways to make the world a better place,
because I believe that we've been created to evolve.
I won't stop challenging myself creatively. I'm not afraid to be anywhere on my own. I'm definitely a warrior for my baby; I'll do whatever it takes to make each day his best day. I've never found as much strength as I have as in being a mother.
B
How did things change for you during your pregnancy?
S
Suddenly it was all about the baby, and still is. It's amazing, mind blowing and challenging at the same time.
B
What legacy would you like to leave Rowan?
S
To leave him with the understanding and belief that life is meant to be 'peaceful for all, with love for all'. And, to start with himself by making his inside and outside world peaceful, loving, happy, balanced and grounded, and then to radiate this into the world with the way he feels and acts.
B
Is there anything special you've learned from your husband?
S
Jessie teaches me how to be more openhearted. He challenges me to be a better person. It's not easy and it sucks sometimes to face how I'm stuck in old habits that don't serve me. Jessie challenges me in a healthy way to move through that. It helps me grow. One of the few reasons I love him; another is Jessie's so funny and keeps me laughing.
B
What would readers be surprised to learn about you?
S
That I'm a Star Trek fan!
B
That is surprising! What might Jessie say is surprising about you?
S
I don't think he expected me to be such a homebody. He thinks of me as this adventurous actress who went off to LA on her own and has travelled the world. Actually I want to live in a simple home with a garden; to have a peaceful routine that builds my energy so we can go on crazy adventures.
B
Has this come about since Rowan?
S
Absolutely. Life changes with little ones.
B
Most memorable worldly experience?
S
I'm fortunate to say there are a number. One that pops into my head immediately is in Pakistan sitting on a mud roof reading my book. Unexpectedly the village children started climbing onto the roof and sat around watching me. At first I was annoyed; they always watched my mom and I. I tried hard to read my book but more and more children came. Finally, I put the book down and started chatting and playing with them. Some older girls came and eventually there was a baby in my lap. There we were sitting on a roof laughing and talking. I looked around, saw the majestic mountains, the walnut and apricot trees, the fields and beyond. Suddenly, I felt the incredible grace of these loving and present people; they made me feel loving and present. Sitting talking, no cell phones, no gadgets. It was a blissful moment.
It makes me feel very sad about what goes on in the world right now in countries like Pakistan. These people who have the least and suffer the most, they have the purest hearts I have ever seen.
B

What does compassion mean for you?

S

Compassion may be the one thing that could heal the entire planet. My mom told me a story from the Bible about how the 'other person is you'. It makes me wonder: if the other person is you, why do we treat each other badly? Why do we try to take more for ourselves? Why do governments not take better care of the people? If the other person is you, you hurt yourself by taking from others. There's totally enough to go around. Greed is a plight of this planet. Suffering of the innocent is beyond ugly and so is the destruction of our planet. I don't get why there isn't more compassion.

B

You've had the opportunity to venture into the world to expand your mind and vision. Do you feel through your acting that you're able bring that to others?

S

I hope so. Rayyan is the first Muslim, hijab-wearing woman to play a female lead on a hit show in North America. This is really sacred to me, an opportunity to provide a close-up of inter-cultural families, I'm half-Lebanese and Caucasian in the show, and in real life my mother is Pakistani and my father Welsh, so it's close to my heart. It also provides an understanding of another culture and how everyone is similar.

B

How are you and Rayyan the same?

S

Some people would say Rayyan and I are strong women; others might say we're a little abrasive or stubborn. We're both set in our ways and we like to be right. Rayyan is hilarious. She's a doctor but she hasn't lost her quirky silliness and I have that child-like quality too. Rayyan really tries to be the best person she can be and she expects a lot out of herself and others because of that. I do the same. And yet, we both fail at times. She loves her family and her friends, and is very loyal to them and I'm extremely loyal to the people I love.

B

Is there a trait Rayyan has helped you add into your life?

S

Yes, definitely. Rayyan taught me how to look classier. I discovered that you can be covered up and be beautiful, maybe even more beautiful. She taught me that you don't have to show off or stand out to be noticed or successful.

B

What do you feel is your biggest strength?

S

Making people feel good. I'm good at growing and changing. I'm pretty good at making what I want to happen in my life happen eventually, but it doesn't

always look the way I thought it would, sometimes it's better! (She says with a big smile!)

B

What was one of the oddest things you've done to advance your career?

S

There was a time in LA when my career was stagnant. I searched for something that would change things, shake my world up, I was in my 20s and motivated to be successful. I wasn't good at schmoozing my way to the top so I decided to try something way out there and wacky. My boyfriend at the time was becoming a wrestler and we thought it would be a cool idea to train together and I became a wrestling diva. A couple of months into the training process I realized it wasn't for me and came home to Toronto. But it did the job, it got things moving inside of me; shortly after I returned I got Little Mosque on the Prairie. Sometimes it's just about shaking things up for yourself.

B

Changing life perspectives to get energy moving?

S

Exactly! I learned that type of performing is not me, that my performing needs to be more than a 'hot, flashy' girl; that in itself was a great lesson.

B



And now you want to be thought of as?

S

A mommy. A good person. An inspiration in whatever way it helps people.
B
What do you do for you when you feel challenged?
S
I've developed a number of resources to help me through challenges, not that I have many. In fact, I'm fortunate to have fewer than most. My belief is when I'm at my best, healthiest, energetic, centered, peaceful and most present, I affect my whole life more positively, as well as my husband's, our baby's, and everyone I'm in contact with. So when I'm off balance I turn to a good friend or my mother for another perspective.
I'll also exercise in fun ways. Outside on a hill doing a mix of dance, Tai Chi and stretching, whatever feels good at the time. I get my heart rate up daily to get the blood circulating and the lungs going. I do deep breathing and yoga as well. Being in nature is better than any kind of therapy for me. That's when I realize my problems aren't so big. Nature helps me get present, and to honour the planet I live on. I try to get enough sleep: I'll take a nap when the baby does and life is so much better after. I'm also conscious of being grateful for the blessings and incredible fortune in my life. I read or listen to the modern day philosophers like Dr. Wayne Dyer and Louise L. Hay.
B
Your nature is to help others Sitara, is there a 'pearl of wisdom' you'd like to leave with us?
S
Peace for all. Life for all. Love for all. Plain, simple, yet for me extremely powerful. Peace, life and love are for everyone. No one is more important than anyone else.
B
Thank you! Often we look to others without seeing our own qualities; as you said to look to others as our mirror. My wish is that everyone looking at you through this article views this as a mirror for them; that they see their peace, love, goodness and caring. You've got lots of it Sitara, your heart shines and you're truly full of light.
H&L
**********
While Sitara Hewitt's modeling career has been primarily of the usual Western clothes (see Google Images), as Rayyan Hamoudi on LMOTP she has become something of a fashion plate for those wishing to wear hijab, particularly in the West. Other Muslim characters wear more and less traditional clothing, in keeping with their degree of religiosity and their ethnicity.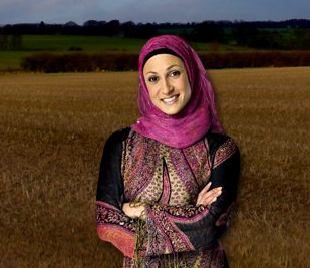 Sitara Hewitt as Rayyan Hamoudi, with her onscreen father Yasir Hamoudi, played by Italian-Canadian actor Carlo Rota.
Fatimah (Arlene Duncan), owner of Fatimah's Cafe, and Yasir (Carlo Rota)
Rayyan and her mother Sarah (played by acclaimed Canadian actress Sheila McCarthy), who converted to Islam out of love for her husband, Yasir, but is still Anglican at heart (and in tap dancing). The season 1 episode "Mother-in-law" is hilarious (available on Youtube in 3 parts, Part 1/3 here).
Rayyan and Imam Amaar Rashid (played by Pakistani-Canadian actor and director, Zaib Shaikh) finally marry! For more pictures and an interesting post, read Desi-Canadian blogger Asiya's post, "Onscreen Bride: Rayyan Hamoudi from Little Mosque on the Prairie", on her blog, AAINA South Asian Bridal Beauty and Style. For the best pictures, see the Gallery for the Episode in the CBC Episode Guide.
Your comments, thoughts, impressions, experiences?
Related Posts:
The Little Yellow Mosque That Could--Arab Muslims in Inuvik, NWT, Canada Now Have a Place of Worship and Community
Fashion Ideas for Muslimahs and for Non-Muslimahs (Expat Women) Wearing Hijab; Hijabi Fashion Week; Vote (29-31/12/2010) on Muslim Fashion Blogs!
Ramadan and Remembering Pakistan: Life in the time of the cholera?
Ramadan and Remembering Pakistan: Parts II, III, and IV: The Floods and Sociobiology; The Response; Katrina 5 Years On
Ramadan and Remembering Pakistan: Part V--Not sure what to do with your zakat?